DIY
Sustainable Living Project Resources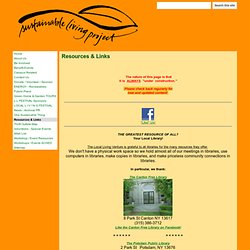 The nature of this page is that it is ALWAYS "under construction". . Please check back regularly for new and updated content! THE GREATEST RESOURCE OF ALL?Your Local Library!
The Radix Ecological Sustainability Center is a federally recognized 501(c)3 not-for-profit educational organization. The mission of the Radix Center is to promote ecological literacy and environmental stewardship through educational programs based around demonstrations of sustainable technologies. At the Radix Center, we believe it is possible to meet human needs while simultaneously restoring ecosystems. Good environmental stewardship is rewarded by better health, wholesome food, and strong communities. The Radix Center teaches practical skills that can be applied to create environmental and economic sustainability.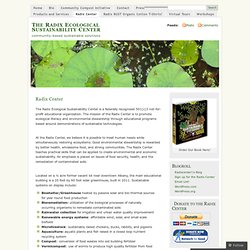 Radix Center « The Radix Ecological Sustainabilty Center
This Sustainable House
There are a number of building projects at TSH which I have recently decided to tackle. Both of the projects I want to work on, a retaining wall and a cool storage cellar, are underground structures which will be in constant contact with the earth, and which will be subjected to considerable loads. I have been trying to work out the best building material to use for these applications and recently I think I have cracked it… Steel Reinforced Rubber Encased Earth Bricks otherwise known as used car tyres! The use of car tyres as a building medium has been popularised by Michael Reynolds, the founder of earthship biotecture. Mike has used the tyres to create a new type of building known as Earthships ( Earthships on Wikipedia) ; so named for their ability to form an almost completely self-contained human ecosystem.
How to Build a House on Wheels: The Foundation and Framing With little exception, my first portable house (also known as Tumbleweed) was built by using the most standard methods of construction. Like any other mobile home, my structure sit on a steel chassis – in this case, a 7' x 14' flatbed, utility trailer.
Greenlivingpedia
From Greenlivingpedia, a wiki on green living, building and energy (Redirected from Main Page) Welcome to Greenlivingpedia, a free resource for sharing information on green living, now and for the future. This is a wiki, so you can create and edit content to share information and collaborate with others on how we can lighten our footprint on the planet and live in harmony with nature and our environment.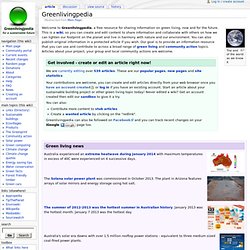 Renewables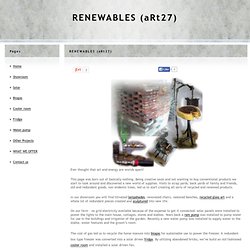 Ever thought that art and energy are worlds apart?This page was born out of basically nothing. Being creative souls and not wanting to buy conventional products we start to look around and discovered a new world of supplies. Visits to scrap yards, back yards of family and friends, old and redundant goods, non endemic trees, led us to start creating all sorts of recycled and renewed products. In our showroom you will find titivated lampshades, renovated chairs, restored benches, recycled glass art and a whole lot of redundant pieces created and sculptured into new life.On our farm – no grid electricity available because of the expense to get it connected- solar panels were installed to power the lights to the main house, cottages, stores and stables. Years back a ram pump was installed to pump water for use in the buildings and irrigation of the garden.
With full floor to ceiling glass, the view is endless and allows passive solar heat gain and natural light to penetrate deep into every room. The front (south) 'hallway' combines with the planterbed to create a very open, airy feeling throughout an HTM. As we will discuss in later detail pages, you can box an HTM in to create smaller rooms, but this is easily, and best, done after the home is completed since interior partition walls are non-bearing. The main thing to keep in mind is the sustainable, energy independent nature of your HTM will be affected by cutting the home up into smaller boxed-in rooms. You are in-effect turning an HTM into a conventional home. True, it will still function worlds better than any stick framed home, but it may need some supplimental energy to heat interior rooms that passive solar energy has been prevented from entering directly.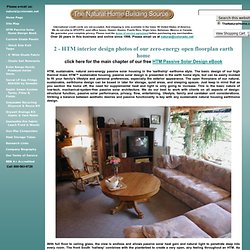 Zero-Energy Earth Home