Building a Movement
Toolbox for Education & Social Action
Participatory Learning and Action
Announcement on the future of the PLA series The Participatory Learning and Action (PLA) series is 25 years old this year. At this important milestone, IIED is taking stock of PLA to look at its legacy and its future direction. The series will be put on hold, pending this review, after issue no. 66. For more information read the future of the series. Independent review of Participatory Learning and Action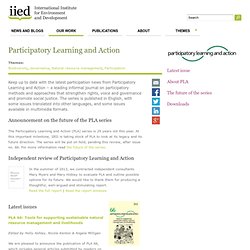 Training for Change
For over 20 years, Training for Change has provided activist training for groups standing up for social, economic, and environmental justice through strategic nonviolence. We've led hundreds of workshops and trained thousands of people – from striking steelworkers to interfaith coalitions for immigrant rights – in the skills they need to effectively create change. Using our unique experiential approach, we create learning environments that provide the practical tools and insights that activists can use, as well as opportunities for real growth, transformation, and empowerment.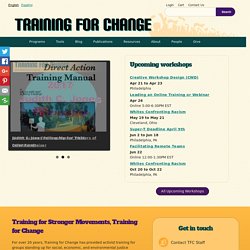 PICO Network Training/Strategy
The Change Agency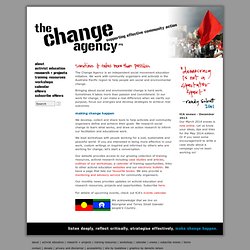 making change happen We develop, collect and share tools to help activists and community organisers define and achieve their goals. We research social change to learn what works, and draw on action research to inform our facilitation and educational work.
This page is also available in: Spanish, Macedonian, Bangla, Portuguese and Arabic. The Advocacy 2.0 Guide (Tools for Digital Advocacy) describes some of the best techniques and tools that digital activists – and others who wish to learn from this subject – can use as part of their online advocacy campaigns. While our previous guide (Blog for a Cause!)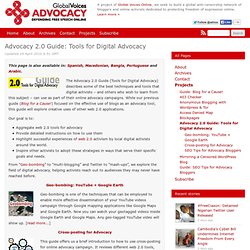 Global Voices: Tools for Digital Advocacy
Alliance for Community Media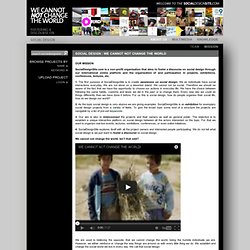 SocialDesignSite.com is a non-profit organisation that aims to foster a discourse on social design through our international online platform and the organization of and participation in projects, exhibitions, conferences, lectures, etc. 1. The first purpose of SocialDesignSite is to create awareness on social design: We as individuals have social interactions everyday. We are not alone on a deserted island. We cannot not be social. Therefore we should be aware of the fact that we have the opportunity to choose our actions in everyday life.
Social Design
Movement Strategy Center
Center for Community Change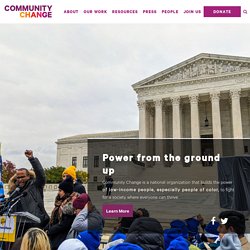 Peter Edelman sat down with Democracy Now! to discuss his new book, "So Rich, So Poor: Why It's So Hard to End Poverty in America." Currently, one in every two Americans live in poverty. Peter Edelman talks about this startling statistic and today's economy. The Center and our partners advocate for a bold jobs agenda to jump start the economy and relieve the massive...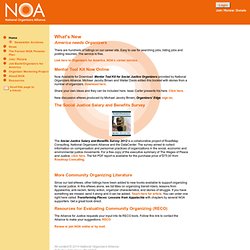 National Organizers Alliance
America needs Organizers There are hundreds of listings on our career site. Easy to use for searching jobs, listing jobs and posting resumes. The service is free.