Outils de présentation
Créez des présentations directement en ligne avec PREZI (mon préféré !) Ou bien diffusez vos présentations existantes avec les outils proposés dans ce pearltrees.
Projeqt - dynamic presentations. Pageflip flash gratuit en ligne. Create infographics | infogr.am. Tutoriel Infogr.am. Easel.ly | créer vos infographies. Plotly | Analyze and visualize data, together. Diagramly Diagrams Online. Graphity Diagram Editor. Flow Chart Maker & Online Diagram Software | Lucidchart. CACOO - Créez des schémas en ligne. Padlet | Paper for the Web.
Tutoriel-padlet.pdf. Tutoriel video. Mural.ly. SlideShare. Bien utiliser Slideshare. Depuis son lancement en 2006, la plateforme d'hébergement de présentations professionnelles Slideshare est devenu un outil de réseautage et de communication incontournable pour les entreprises et les indépendants.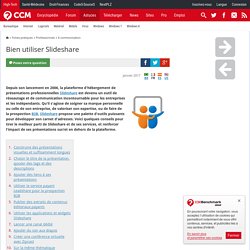 Qu'il s'agisse de soigner sa marque personnelle ou celle de son entreprise, de valoriser son expertise, ou de faire de la prospection B2B, Slideshare propose une palette d'outils puissants pour développer son carnet d'adresses. Voici quelques conseils pour tirer le meilleur parti de Slideshare et de ses services, et renforcer l'impact de ses présentations sur/et en dehors de la plateforme.
Utilisation slideshare2010. ISSUU Présentations en ligne.
---