Images libres
Des banques d'images libres, la plupart du temps sous licence Creative Commons, et directement téléchargeables.
CC Search. Wikimedia Commons. Cancel Edit Delete Preview revert Text of the note (may include Wiki markup) Could not save your note (edit conflict or other problem).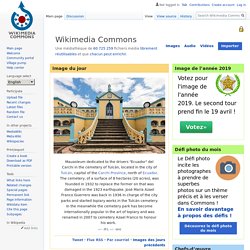 Please copy the text in the edit box below and insert it manually by editing this page. Upon submitting the note will be published multi-licensed under the terms of the CC-BY-SA-3.0 license and of the GFDL, versions 1.2, 1.3, or any later version. See our terms of use for more details. Flickr CC. Many Flickr users have chosen to offer their work under a Creative Commons license, and you can browse or search through content under each type of license.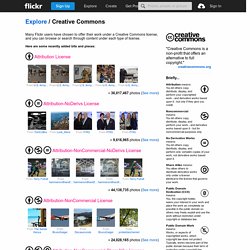 Here are some recently added bits and pieces: Attribution License » 58,276,835 photos (See more) Plus de 200 000 icônes gratuites. 40 sites d'images libres de droit et/ou gratuites. Pour trouver rapidement des milliers d'images de qualité libres de droit et souvent gratuites, voici une liste incontournable de moteurs de recherche, banques d'images et plateformes de partage photos.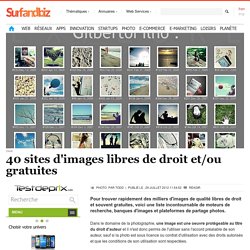 Dans le domaine de la photographie, une image est une oeuvre protégeable au titre du droit d'auteur et il n'est donc permis de l'utiliser sans l'accord préalable de son auteur, sauf si la photo est sous licence ou contrat d'utilisation avec des droits autorisés et que les conditions de son utilisation sont respectées. Un photographe peut décider que certaines de ses oeuvres soient libres de droit, ce qui indique que leur usage sous certaines conditions peut-être réduit à un coût forfaitaire ou nul.
Stockvault.net - Free Stock Photos. Free vectors, photos and PSD Downloads | Freepik. Openphoto.net. MorgueFile free photos. Rijksmuseum - 125000 oeuvres libres de droits. Everystockphoto - free photos. Free Stock Photos - Foter. Des pictos au kilo !
Pictos avec prononciation - Plusieurs langues. Trouver des pictogrammes de qualité. Images gratuites, illustrations gratuites : Picto. Galerie des insectes. B.I.L.D. Image After. Images dans le Domaine Public. Trouver et utiliser des images sous licence libre. Data.abuledu.org.
---