Arts and crafts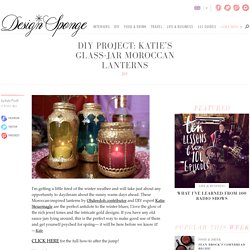 I'm getting a little tired of the winter weather and will take just about any opportunity to daydream about the sunny warm days ahead. These Moroccan-inspired lanterns by Ohdeedoh contributor and DIY expert Katie Steuernagle are the perfect antidote to the winter blues; I love the glow of the rich jewel tones and the intricate gold designs. If you have any old sauce jars lying around, this is the perfect way to make good use of them and get yourself psyched for spring— it will be here before we know it! — Kate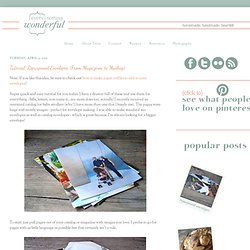 Note: If you like this idea, be sure to check out how to make paper ruffles to add to your envelopes ! Super quick and easy tutorial for you today. I have a drawer full of these and use them for everything - bills, letters, you name it...my mom does too, actually! I recently received an oversized catalog for baby strollers (why? I have more than one that I barely use). The pages were huge and mostly images - perfect for envelope making.
Inspired by Annette's Modern DIY Outdoor Planter post , Apartment Therapy reader Chris shows us all how easy this project was to recreate... Thank you for your post on Annette's modern DIY outdoor planter . I immediately went to Home Depot to replicate it in my barren back patio. Since the patio was not even remotely level, I had to pour a concrete footing for the blocks. The total cost of the project (supplies, soil, plants) was under $200. Here is a photo of the finished product.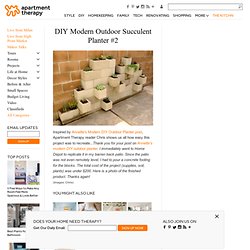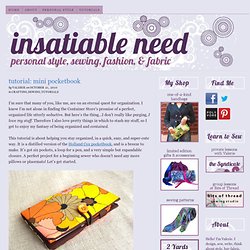 I'm sure that many of you, like me, are on an eternal quest for organization.