Updated
Identifying reliable sources. To obtain or provide community input on whether a source meets our reliability standards for a particular use, see the reliable sources noticeboard.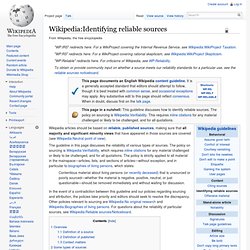 Wikipedia articles should be based on reliable, published sources, making sure that all majority and significant minority views that have appeared in those sources are covered (see Wikipedia:Neutral point of view). The guideline in this page discusses the reliability of various types of sources. The policy on sourcing is Wikipedia:Verifiability, which requires inline citations for any material challenged or likely to be challenged, and for all quotations. The policy is strictly applied to all material in the mainspace—articles, lists, and sections of articles—without exception, and in particular to biographies of living persons, which states: Where to Find "Accurate, Reliable" News. Nation magazine editor Katrina Vanden Heuvel recently told an audience of journalism students at Indiana University that mainstream reportage has become so trivial that C-SPAN was the only substantive and reliable source of daily news.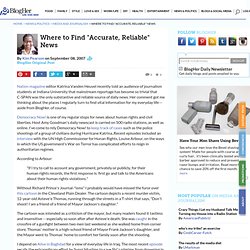 Her comment got me thinking about the places I regularly turn to find vital information for my everyday life -- aside from BlogHer, of course. Democracy Now! Is one of my regular stops for news about human rights and civil liberties. The free news source.
Comics. Welcome to Facebook - Log In, Sign Up or Learn More. DeviantART: where ART meets application!
---