Photo series
Seoul-based artist Choi Xooang. Choi Xooang has a amazing capability to pull you into his work.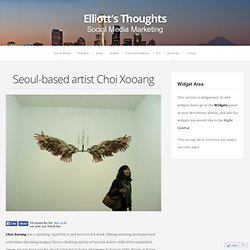 Mixing amazing technique and utter blunt shocking images Choi is climbing my list of favorite artists. Half of his outlandish pieces are not done just for shock value but to bring awareness to human right abuses in Korea. Also, if you like this, you'll most likely enjoy the work of Emil Alzamora. Rune Guneriussen & Escape Into Life. These dream-like installations are assembled, and then photographed by Norwegian artist Rune Guneriussen.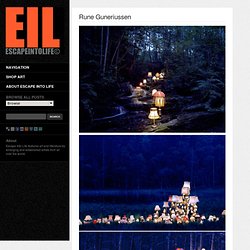 Just imagine being out for a walk in Norway's countryside, turning a corner and discovering a magical forest of lamps, a tangle of chairs, or a river of books. Sadly, once the photograph is taken, Rune removes the installation, the only proof of it's existence being these images… sort of like waking up from an amazing dream that you could have sworn was real. As an artist, I believe strongly that art itself should be questioning and bewildering as opposed to patronising and restricting. As opposed to the current fashion I do not want to dictate a way to the understanding of my art, but rather indicate a path to understanding a story. Rune Guneriussen's site. Nygards Anna -- stylealchemy™ Inkd n Shiny Things. Surreal underwater river (4 pics, 1 vid. Фотограф Susanna Majuri (29 фото - 4,47.Mb. Rainbowarriors ( + in comments) Alberto Seveso.
Tim MacPherson ? Designaside.com. Mental_floss Blog » He Took a Polaroid Every Day, Until the Day He Died. I came across a slightly mysterious website -- a collection of Polaroids, one per day, from March 31, 1979 through October 25, 1997.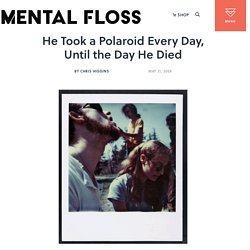 There's no author listed, no contact info, and no other indication as to where these came from. So, naturally, I started looking through the photos. I was stunned by what I found. In 1979 the photos start casually, with pictures of friends, picnics, dinners, and so on. Stardust Civilization (10 photos) Have we found strange, sparking aliens, beautiful creatures from another planet?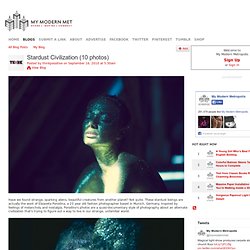 Not quite. These stardust beings are actually the work of Elizaveta Porodina, a 23 year old fashion photographer based in Munich, Germany. Inspired by feelings of melancholy and nostalgia, Porodino's photos are a quasi-documentary style of photography about an alternate civilization that's trying to figure out a way to live in our strange, unfamiliar world. Knowing is not primary, experience is.
Insane Underwater Movie Sets (10 photos) Have you ever wondered how movies shoot their underwater scenes?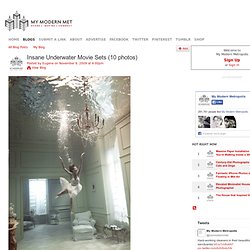 In one of the most elaborate sets in the world, British film production company Pinewood Studio captures breathtaking shots in a tank filled with 1.2 million liters (317,000 gallons) of water. The underwater stage, which opened in 2005, has been used for a huge number of TV commercials, music videos and films, including The Bourne Ultimatum, Atonement, Elizabeth and Casino Royale. ''It's exciting to show the story of the production through underwater pictures," said Phoebe Rudomino, a commercial diver and photographer who took all the shots. "It's interesting to take a wider shot and show what is going on behind the camera. Noemie Goudal. Sarah Yates Blog- Los Angeles, Southern California & Destination Wedding Photographer - Sarah Yates Photography Blog - girls lingerie?party! Does a lingerie shopping party with your friends that involves bubbly, sweets and the fanciest most lovely lingerie in existence not sound like the most ridiculously fun thing ever?!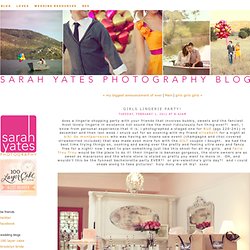 Well, i know from personal experience that it is. i photographed a staged one for RUE (pgs 220-241) in december and then last week i snuck out for an evening with my friend elizabeth for a night at kiki de montparnasse who was having an insane sale event (champagne and choc covered strawberried included) that was made even more fun with the GILT coupon i bought. we had the best time trying things on, ooohing and awing over the pretty and feeling ultra sexy and fancy free for a night! Now i want to plan something just like this shoot for all my girls. and faire frou frou would be the place to do it! Their lingerie is bananas gorgeous, the store owners are as sweet as macaroons and the whole store is styled so pretty you want to move in.
Artistic Architecture and Landscape Photography (15 photos) Varlose, Denmark-based freelance architectural and landscape photographer Kim Holtermand takes photos that make you appreciate life's still moments.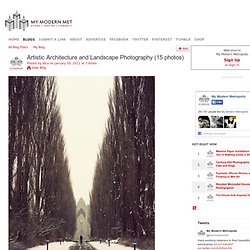 There's an underlining moodiness to his work - you can almost feel the heavy fog surrounding the buildings or weaving through the trees. His attention to color, composition, lines and angles doesn't go unnoticed. Portraits : Mads Teglers. Miriam Sweeney | Subversion. A lot of inspiration. Really a lot !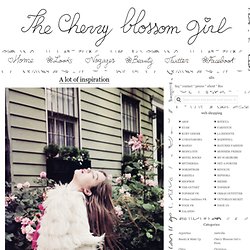 Photos from Souvenirs of a girl alexandrasophie; wildfox; Ikea; Ella May ; Vogue Italia, Hello mr fox, Rodarte, D&L Compagny; Linda Portman, Sadhbh Kennedy, The Virgin Suicides, deerlings, Claudia Smith, Tim Walker, Nylon, miu miu, Proenza Schouler, Elle, Jil Sander, Charles Anastase, Russh, Giles, Krisatomic, Burberry Prorsum, Alexander Mc Queen, Lula, Dior, Cacharel, The Selby, Topshop, Johnnys bird,Bare Bjarne.
---