journalism
Get flash to fully experience Pearltrees
Beauty Icons of the Century: A painfully beauteous photoblog Style.com has this amazing feature called Beauty Icons, a monthly look at the faces that have made history . the most stylish, inspiring and unforgettable beauties of our time. that page is probably my most frequented part of the whole site. the chosen women are undoubtedly icons, and are in no way conventional. many have had a palpable effect on how we now perceive beauty and personal style. here are my absolute favorite photos of the entire series. click on the photos for their stories. Amelia Earhardt "Indeed, her slight frame and boyish crop of tousled hair led to comparisons with Charles Lindbergh—her generation's other great pilot. But behind those goggles "Lady Lindy" was a true beauty, with silver-dollar eyes, a slender neck, and freckles scattered across a button nose." Björk "Björk's striking appearance is as singular as her sound.
Timothy H. O'Sullivan – Battle of Gettysburg This photograph has become synonymous with The Battle of Gettysburg, which was the most bloody battle of the American Civil War. Photographer Timothy H.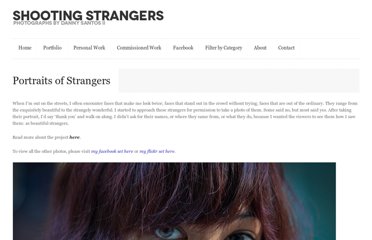 When I'm out on the streets, I often encounter faces that make me look twice; faces that stand out in the crowd without trying; faces that are out of the ordinary. They range from the exquisitely beautiful to the strangely wonderful. I started to approach these strangers for permission to take a photo of them.
1. You can make a photograph of anything and anyone on any public property, except where a specific law prohibits it. e.g. streets, sidewalks, town squares, parks, government buildings open to the public, and public libraries. 2.
Jonathan Hobin is an Ottawa-born art director and photographer. In the Playroom is a metaphor for the impossibility of a protective space safe from the reach of modern media. The quizzical disposition of youth and the pervasive nature of the media are symbolically represented in images through tableau-vivant re-enactments of the very current events that adults might wish to keep out of their child's world. The photographs in this new series are visual echoes of iconic media imagery that has had an immeasurable effect on our culture.
854 Email Share In India, noted the most vivid and colorful Spring Festival – Holi (Holi). The festival takes place in late February – early March, the full moon. On the first day bonfires at night, symbolizing the burning of Holik, and local musicians and dancers perform to celebrate.