Dinner
Get flash to fully experience Pearltrees
Can you keep a secret? Last night I went to a karate slash pilates slash bootcamp-ish slash heart attack class.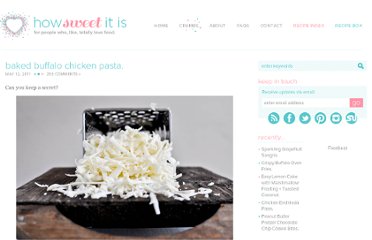 I receive a lot of questions about me and my blog. I thought it would be fun to collectively gather some questions I have been asked so you can get to know me better and maybe find some of the stuff useful for you.
I was at my local, neighbourhood coffee shop recently and enjoyed a bowl of a soup that was called "Wicked Thai". I enjoyed it so much that I came home and started looking for a recipe on the internet. I quickly discovered that Campbell's™ had produced a similar soup at one point (and maybe still does).
Note: Since this recipe is featured on the Food Network episode this morning, I'm bringing it to the front for easy reference.
I am a huge sucker for those buttery, old-fashioned pull-apart buns that grandmas used to make, and I can still find in small-town farmers' markets in the Canadian prairies. (Since I don't have a grandma to make them for me anymore, I have to buy them from other peoples' grandmas.)
I'll say it now and I'll say it forever... TGIF!
I have been making these stuffed peppers for as long as I can remember. The original recipe began as one from the Better Homes and Garden Cookbook , which was the only cookbook my mother owned when I was growing up.
I know I talk about how much I miss Mexican food a lot, but I really, really miss it. It simply isn't the same here in New York City.
The ultimate in comfort food, this soup was our solace for being trapped in the house far too long with subzero temperatures raging outside (oh, spring, wherefore art thou??). My Aunt Marilyn sent me the recipe and I was hooked on trying it when I knew she had been making it and loving it for years and also has used it as a wonderful take-in meal with great results. The soup is a delicious and unique twist on traditional chicken noodle soup and the overall flavor of this soup is out of this world (not to mention the way my house smelled while cooking it – crazy good).
Today's recipe is another quick fix meal that I turn to quite frequently.
OK, Folks. No joke, these are the best ribs ever!! I always look at reader reviews when I choose a recipe.
I n an effort to health up my family's lunches, I am steering away from those frozen prepackaged sandwiches that saved me back in my busy December, to homemade frozen sandwiches, and so far so good. The Frozen Chicken Sandwich was a huge hit with my kids so I moved on to trying the Cheeseburger by simply increasing the size of my White Castle-like Sliders . Start by sprinkling a large 11×17 inch pan with dried minced onions and pressing 2.5 pounds of ground beef over top.