Dev Greasemonkey
From WikiContent This concise, high-end guide shows experienced administrators how to customize and extend popular open source security tools such as Nikto, Ettercap, and Nessus. It also addresses port scanners, packet injectors, network sniffers, and web assessment tools. Network Security Tools is the one resource you want at your side when locking down your network. Contents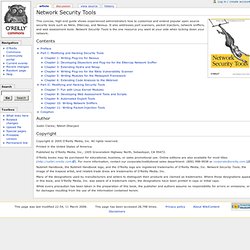 Network Security Tools
O'Reilly Commons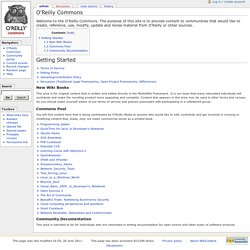 From WikiContent Welcome to the O'Reilly Commons. The purpose of this site is to provide content to communities that would like to create, reference, use, modify, update and revise material from O'Reilly or other sources.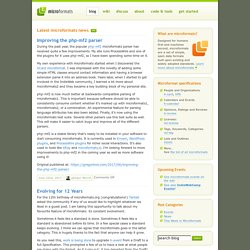 Last week the microformats.org community celebrated its 7th birthday at a gathering hosted by Mozilla in San Francisco and recognized accomplishments, challenges, and opportunities. Humans First: Admin Emeriti & New Admins The microformats tagline "humans first, machines second" forms the basis of many of our principles, and in that regard, we'd like to recognize a few people and thank them for their years of volunteer service as community admins:
greasemonkey
Tutorials - GreaseSpot
Greasemonkey is a Firefox extension that gives you tremendous control over how a page appears in your browser. If you can imagine JavaScript that you wish would run when a site loads, you can make it so. Rearrange a site's layout, hide annoying elements (ads?), or replace every occurrence of "David Lee Roth" with "Sammy Hagar."
Get Started With Greasemonkey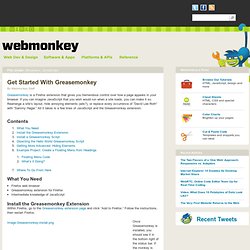 With this blog entry I am continuing the theme of demonstrating tools to help you build mashups. In this case, I will show how a tool called Greasemonkey can be a powerful approach for building browser side mashups. Greasemonkey is a plugin to Firefox that allows a script developer to inject useful Javascript into any web page. This capability enables you to add new features to sites that you do not own. I will show in this blog how you can add a new feature to the dev2dev website, without having access to the dev2dev code. Later, a follow-up blog will show how this same technique can create a feature on dev2dev that includes data from a different web site, producing a true mashup.
More Mashups: Using Greasemonkey to Weave New Features into Web Sites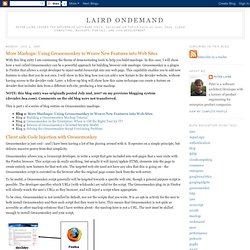 Avoid Common Pitfalls in Greasemonkey - GreaseSpot
Monkey see, GreaseMonkey do!