Statistics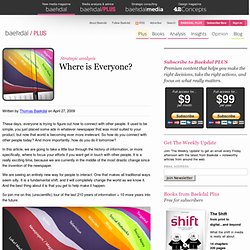 Where is Everyone? (by @baekdal) #media
These days, everyone is trying to figure out how to connect with other people. It used to be simple, you just placed some ads in whatever newspaper that was most suited to your product, but now that world is becoming ever more irrelevant. So how do you connect with other people today?
The REAL Death Of The Music Industry
The Missing Google Analytics Manual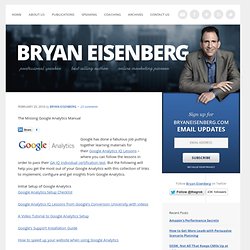 Bryan & Jeffrey Eisenberg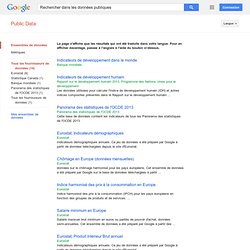 Who enjoys the fastest internet? South Koreans do, according to Ookla- the average South Korean Internet connection is more than 3x faster than the average connection in the US. Eastern European countries like Latvia and Lithuania are also at the top of the pool. Within the US, there is tremendous variation by state.
Social media is not just a social instrument of communication. It is not all about people sharing ideas and thoughts with other people. It is the creation and exchange of 'User Generated Content'.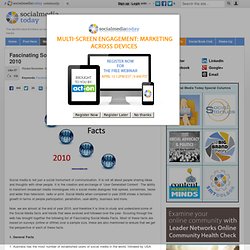 Fascinating Social Media Facts of Year 2010
This Google resource brings together the latest industry facts and insights. These have been collected from a number of third party sources covering a range of topics from macroscopic economic and media trends to how consumer behaviour and technology are changing over time. All facts and insights given on this webpage are provided by the data provider that is attributed next or close to that piece of data. Any links to third party websites are provided as a convenience to our users only, and Google does not make any representation, affiliation or endorsement of these websites. We also welcome you to submit your own stat .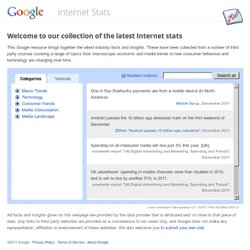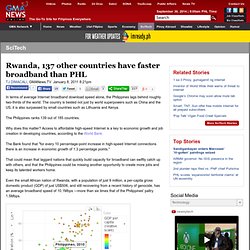 In terms of average Internet broadband download speed alone, the Philippines lags behind roughly two-thirds of the world.
INFOGRAPHIC: The state of broadband Internet worldwide - Technology - GMANews.TV - Official Website of GMA News and Public Affairs - Latest Philippine News