Statistics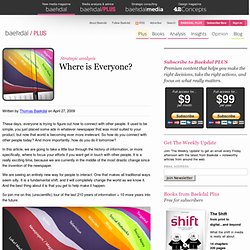 Where is Everyone? (by @baekdal) #media
These days, everyone is trying to figure out how to connect with other people. It used to be simple, you just placed some ads in whatever newspaper that was most suited to your product, but now that world is becoming ever more irrelevant. So how do you connect with other people today?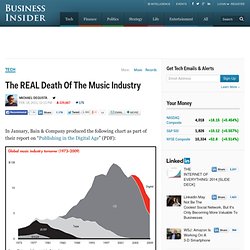 In January, Bain & Company produced the following chart as part of their report on "Publishing in the Digital Age" (PDF): Bain Analysis Then on Tuesday, someone posted it on Flickr. Subsequently, Peter Kafka of Wall Street Journal's MediaMemo noticed it and passed it along to Jay Yarow, who made it Business Insider's Chart of the Day on Wednesday, citing Kafka and the Flickr post. On Thursday, the excellent John Gruber at Daring Fireball linked to it and between those two postings the chart garnered a fair bit of attention, including from the likes of apparent digital music expert Bob Lefsetz ("First in Music Analysis"). No one seems to have tracked it back to the original source nor noticed what happened to catch my eye straight away:
The Missing Google Analytics Manual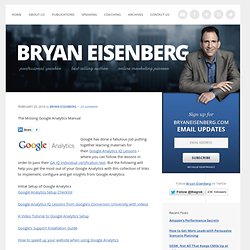 Bryan & Jeffrey Eisenberg Professional Speakers, Best Selling Authors, Online Marketing Pioneers February 25, 2010 by Bryan Eisenberg 23 Comments The Missing Google Analytics Manual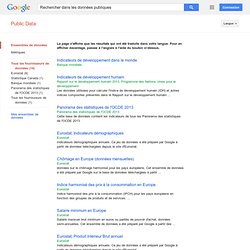 Indicateurs de développement humain Rapport sur le développement humain 2013, Programme des Nations Unies pour le développement Les données utilisées pour calculer l'Indice de développement humain (IDH) et autres indices composites présentés dans le Rapport sur le développement humain ... Eurostat, Indicateurs démographiques
Social media is not just a social instrument of communication. It is not all about people sharing ideas and thoughts with other people. It is the creation and exchange of 'User Generated Content'.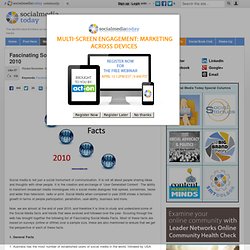 Fascinating Social Media Facts of Year 2010
Worldmapper is a collection of world maps, where territories are re-sized on each map according to the subject of interest. There are now nearly 700 maps. Maps 1-366 are also available as PDF posters. Use the menu above to find a map of interest. In 2009 we added a series of maps of the world's population using a gridded cartogram approach: Worldmapper Population Atlas If you are interested in more background on map projections, read the short introductions about Worldmapper and map projections and gridded cartograms as a map projection. Find out more about the world's population in a new interactive map feature and our gridded country cartogram series: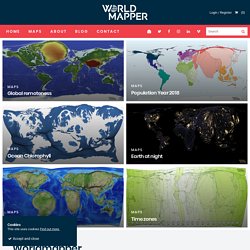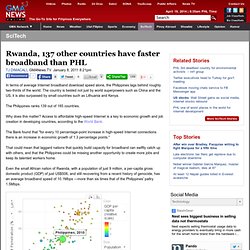 In terms of average Internet broadband download speed alone, the Philippines lags behind roughly two-thirds of the world. The country is bested not just by world superpowers such as China and the US, it is also surpassed by small countries such as Lithuania and Kenya. The Philippines ranks 139 out of 185 countries.
INFOGRAPHIC: The state of broadband Internet worldwide - Technology - GMANews.TV - Official Website of GMA News and Public Affairs - Latest Philippine News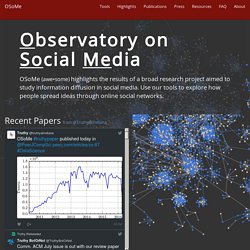 Analytics Browse Analyze interesting features of the social network with interactive interfaces. Movies
Numbeo is the world's largest database of user contributed data about cities and countries worldwide. Numbeo provides current and timely information on world living conditions including cost of living, housing indicators, health care, traffic, crime and pollution. 1211414 prices in 4356 cities entered by 139689 users (information updated 2014-04-17) Numbeo provides a tool to see, share and compare information about cost of living worldwide, by providing online software which : provides to a reader of a website prices for free uses wisdom of the crowd to get as reliable data as possible provides a system for systematic research on cost of living and property markets calculates derived indices such as consumer price index, domestic purchasing power, etc. provides a system for other systematic economical research on huge dataset with worldwide data
World Population: has reached 7 billion on October 31, 2011 is projected to reach 8 billion by 2024 has doubled in 40 years from 1959 (3 billion) to 1999 (6 billion) is currently growing at a rate of around 1.14 % per year growth rate reached its peak in the late 1960s, when it was at 2% growth rate is currently declining and is projected to continue to decline in the coming years average annual population change is currently estimated at over 80 million world population will nearly stabilize at just above 10 billion persons after 2062 a tremendous change occurred with the industrial revolution: whereas it had taken all of human history up to the year 1800 for world population to reach 1 billion, the second billion was achieved in only 130 years (1930), the third billion in less than 30 years (1959), the fourth billion in 15 years (1974), the fifth billion in 13 years (1987), the sixth billion in 12 years (1999) and the seventh billion in 12 years (2011).