Journalism
Of or pertaining to the craft of journalism Apr 14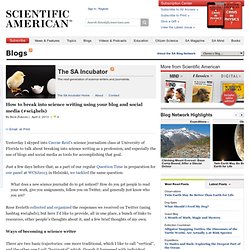 How to break into science writing using your blog and social media (#sci4hels) | The SA Incubator
Yesterday I skyped into Czerne Reid's science journalism class at University of Florida to talk about breaking into science writing as a profession, and especially the use of blogs and social media as tools for accomplishing that goal. Just a few days before that, as a part of our regular Question Time in preparation for our panel at WCSJ2013 in Helsinki, we tackled the same question: What does a new science journalist do to get noticed? How do you get people to read your work, give you assignments, follow you on Twitter, and generally just know who you are? Rose Eveleth collected and organized the responses we received on Twitter (using hashtag #sci4hels), but here I'd like to provide, all in one place, a bunch of links to resources, other people's thoughts about it, and a few brief thoughts of my own.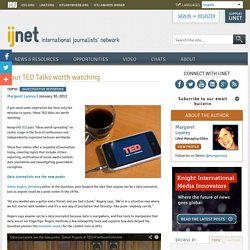 If you need some inspiration but have only ten minutes to spare, these TED Talks are worth watching. Nonprofit TED puts "ideas worth spreading" on center stage in the form of conferences and independently organized lectures worldwide. These four videos offer a snapshot of journalism today, covering topics that include citizen reporting, verification of social media content, data journalism and investigating government corruption.
4 TED Talks Every Journalist Should Watch
Soros Justice Fellowships
The Soros Justice Fellowships fund outstanding individuals to undertake projects that advance reform, spur debate, and catalyze change on a range of issues facing the U.S. criminal justice system. The Fellowships Program is part of a larger effort within the Open Society Foundations' Justice Fund to reduce the destructive impact of current criminal justice policies on the lives of individuals, families, and communities in the U.S. by challenging the overreliance on incarceration and extreme punishment, and ensuring a fair and accountable system of justice. Fellows receive funding ($58,700–$110,250) through the following two categories: Advocacy Fellowships The Soros Justice Fellowships Program's Advocacy Fellowships fund lawyers, advocates, grassroots organizers, researchers, and others with unique perspectives to undertake full-time criminal justice reform projects at the local, state, and national levels.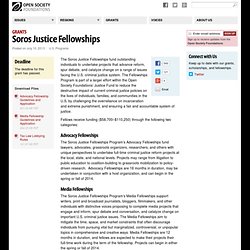 The Investigative Fund
Ch-ch-changes Hi writers! I'm Manjula, and I've been your driver here at whopays.tumblr.com since I founded the site on a whim in December 2012.
Who pays writers?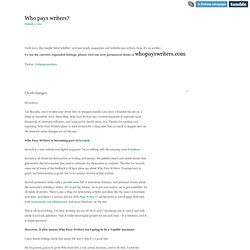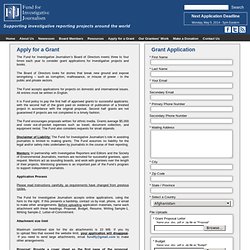 The Fund for Investigative Journalism's Board of Directors meets three to four times each year to consider grant applications for investigative projects and books. The Board of Directors looks for stories that break new ground and expose wrongdoing – such as corruption, malfeasance, or misuse of power - in the public and private sectors. The Fund accepts applications for projects on domestic and international issues. All entries must be written in English. It is Fund policy to pay the first half of approved grants to successful applicants, with the second half of the grant paid on evidence of publication of a finished project in accordance with the original proposal. Second half grants are not guaranteed if projects are not completed in a timely fashion.
Apply for a Grant – The Fund for Investigative Journalism
People like my resume—here's a PDF!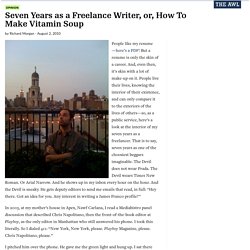 Seven Years as a Freelance Writer, or, How To Make Vitamin Soup
The Guardian on Facebook
SExpand Do you have a hero you'd love to meet? It's not impossible. Entrepreneur Alex Debelov offers tips for not only meeting, but also forming relationships with those you admire.
How to Meet Anyone From Steve Wozniak to the President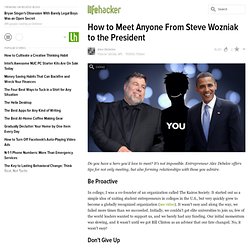 Journalist's Resource: Research for Reporting, from Harvard Shorenstein Center
USA TODAY Interns • Tips for Negotiating for Data
Lobbyist & Lobbyist Client Search
Foundation - Bastiat Prize Rules
About Journalismnet.com
"This instrument can teach, it can illuminate, yes, it can even inspire.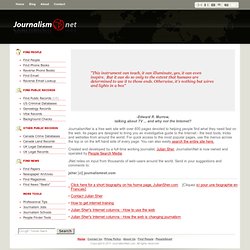 nonprofit reports and Forms 990 for donors, grantmakers and businesses
Craft II with Wayne Svoboda | A resource for Wayne Svoboda's Spring 2012 Craft II class
Journalists ride in an army soldiers' carrier to the front line during clashes between forces loyal to Syrian President Bashar al-Assad and opposition fighters on August 24, 2013. (Reuters/Khaled al-Hariri)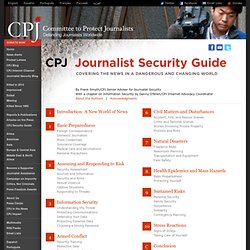 Journalist Security Guide - Reports
On asylum and refugees, it's time to open a new conversation... By Russell Hargrave Think small to light up rural Africa By Henrietta Miers Last week, Malawi's president declared: "Let there be light in every home."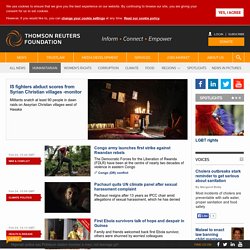 The American Society of Journalists and Authors
Complete the application with the information requested, and submit URLs for any clips and other documentation that can be viewed online. Amazon links for books are fine; links to your own website are also acceptable if your credits are accessible there.
Flu Resources Google Flu TrendsMaps and other tools for tracking the flu.
Medical/Health Index Archives
How To Pitch: Bloomberg Businessweek - mediabistro.com Content
How To Pitch: Your tip sheets, straight from the editors How To Pitch: Communication ArtsThis freelance-friendly mag is on the lookout for innovative writers who inspire.By Stephanie Murg, January 9, 2014 More... (163) Videos: Watch original videos about media news and newsmakers.
Power Reporting:
Reporters Committee for Freedom of the Press | A nonprofit association dedicated to providing free legal assistance to journalists since 1970
News Nerd Jobs
S Division of Corporations, State Records and UCC
The Corporation and Business Entity Database includes business and not-for-profit corporations, limited partnerships, limited liability companies and limited liability partnerships, as well as other miscellaneous businesses. The Corporation and Business Entity Database online search is intended for status inquiries of entities already on file with the Department of State. Customers are cautioned to avoid interpreting database search information as an indication that a name is or is not available for use.
CPI Inflation Calculator
Percent Change Calculator
Excellence In Journalism 2012 » Scholarships, Fellowships and Internships
The Working Press
Guide: How To Really Get An NYPD Press Pass