Société et Media
Opération "LeakSpin" (Anonymous)
Comme 23% des « cadres et professions intellectuelles » et 9% des urbains, j'ai eu un iPhone. Et même deux. Que me suis fait piquer. C'est alors que m'est venue l'idée intéressée de rentabiliser mon expérience, et d'écrire ce papier.
L'iPhone remet le vol de portables à la mode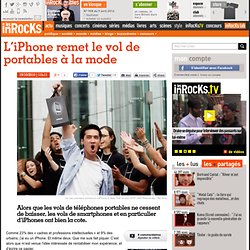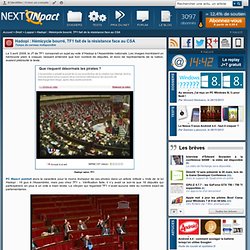 Le 3 avril 2009, le JT de TF1 consacrait un sujet au vote d'Hadopi à l'Assemblée nationale. Les images montraient un hémicycle plein à craquer, laissant entendre que bon nombre de députés, et donc de représentants de la nation, avaient plébiscité le texte. Hadopi selon TF1
Hadopi : Hémicycle bourré, TF1 fait de la résistance face au CSA
Denis BARTHE : "ceci dit pour être clair"
Et toi, est-ce que tu buzz ? : la bande annonce (France 4)
Vous allez être redirigé vers la liste des contenus accessibles depuis votre territoire. Nous faisons chaque jour tout notre possible pour enrichir l'offre de programmes disponibles en streaming depuis l'étranger. N'hésitez pas à revenir régulièrement consulter cette liste ! You'll soon be redirected to the the list of contents available from your current viewing territory.
Et toi, est-ce que tu buzz ? : l'émission sur Pluzz (France 4)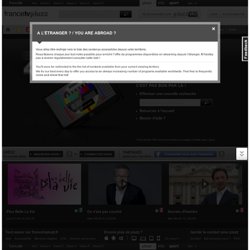 TITC Stream : Site de streaming de la série The IT Crowd