How to
Mark Calculator - Learning Services - Assistance - University of Guelph Library. The Mark Calculator, developed by Learning Services, is a tool to help you understand exactly where you stand in your courses.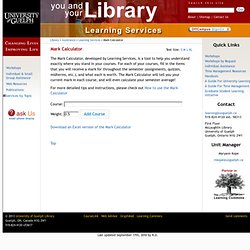 For each of your courses, fill in the items that you will receive a mark for throughout the semester (assignments, quizzes, midterms, etc.), and what each is worth. The Mark Calculator will tell you your current mark in each course, and will even calculate your semester average! Extra Petite | Petite Fashion, Style Tips and DIY. I showed this blouse a while back and received several requests for a tutorial.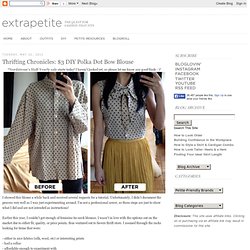 Unfortunately, I didn't document the process very well as I was just experimenting around. I'm not a professional sewer, so these steps are just to show what I did and are not intended as instructions! Earlier this year, I couldn't get enough of feminine tie-neck blouses. I wasn't in love with the options out on the market due to either fit, quality, or price points, thus ventured out to Savers thrift store. Animated Knots by Grog | How to Tie Knots | Fishing, Boating, Climbing, Scouting, Search and Rescue, Household, Decorative, Rope Care, Life Hacks.
Drinks. Languages - Spanish: All you need to start learning Spanish. New Ring Designs. November 24th, 2010 A while ago I bought lots of antique silver spoon sets when we visited Colin's sister Morag and her family over the summer as they live near Spoon Central – a little village called Horncastle that is full to the brim with small antique shops.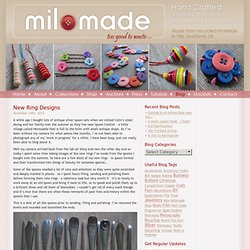 As I've been without my camera for what seems like months, I've not been able to photograph any of my 'work in progress' for a while. I have been busy, just not really been able to blog about it. Well my camera arrived back from the lab all shiny and new the other day and so today I spent some time taking images of the new rings I've made from the spoons I bought over the summer.
How to Pair Mixers with Alcohol : Recipes and Cooking. How to Clear a Blocked Nose.
Games.
---