Fruit Trees
Why Grow Your Own Fruit When planning your kitchen garden consider adding a couple of dwarf fruit trees. These small trees grow very well in small, urban areas, and can produce quite a bit of full size, delicious, organic fruit for free. As more people become concerned with the food supply, its effect on the environment, and buying locally, it seems natural that there would be more interest in having a personal supply of fruit. After all, there are regularly recalls of fruit that has been grown commercially, whether in the United States or other countries. Growing your own fruit is another way to control what you are eating, and it is great for the earth.
Dwarf Fruit Trees in the Home Orchard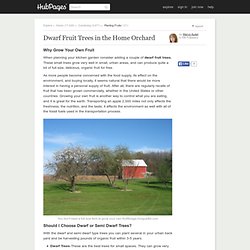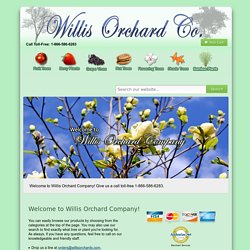 Feel free to browse our products by choosing from categories at the top of the page. You may also use our search function to find exactly what tree or plant you're looking for. As always, if you have any questions, feel free to call on our knowledgeable and friendly staff.
Willis Orchard Company: Fruit Trees | Flowering Trees | Berry Plants | Shade Trees | Walnut Trees
Here at Stark Bro's, we know the best tasting fruit comes from your own backyard. We've been producing the highest quality fruit trees, berries and garden plants for our customers for nearly 200 years! With great products and expert advice, we can help you and your family enjoy the delicious rewards and huge savings that come from growing your own. Hear the president of Stark Bro's, Cameron Brown, and others tell the story of our company. Get a glimpse inside our careful production process with Elmer Kidd, Stark Bro's Chief Production Officer, and learn all about the care we take to ensure your success. Arbor Month Trees of the Day »
Stark Bro's - A Growing Legacy Since 1816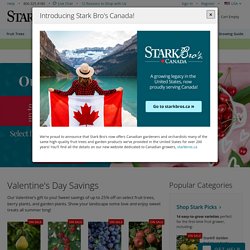 Fast Growing Trees - Buy Trees Online - Trees for Sale