CMS
Update du 5 Octobre 2011: les tutoriels ont beau datés de 2007, ils sont en cours de modifications pour y ajouter les fonctionnalités des dernières versions de WordPress. Quoi qu'il en soit, ils sont toujours d'actualité et ont été mis à jour plusieurs fois. Peut-être que vous aimeriez créer votre propre thème pour votre blog et que vous ne savez pas trop comment vous y prendre ?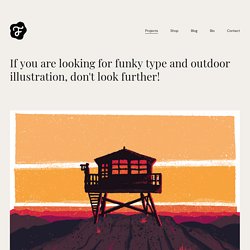 WordPress is web software you can use to create a beautiful website or blog. We like to say that WordPress is both free and priceless at the same time. The core software is built by hundreds of community volunteers, and when you're ready for more there are thousands of plugins and themes available to transform your site into almost anything you can imagine. Over 60 million people have chosen WordPress to power the place on the web they call "home" — we'd love you to join the family.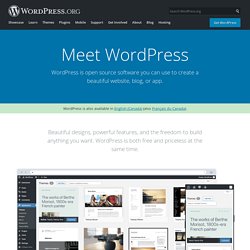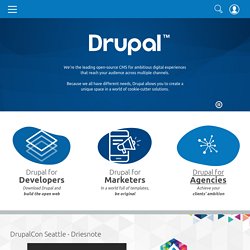 infojunkie committed Add date to ebook formatter + fix MIME... sammarks15 committed Fix old references from entity_menu_links Ben Howes committed Merge pull request #2 from ZoetropeImaging/7... Ben Howes committed added example of templating Ben Howes committed updated README with display formatter info Ben Howes committed added field formatter to combine with a list...