Dinner Ideas
Chicken Patties – & what I don't like..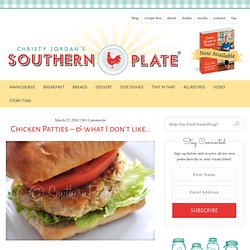 I love being able to recycle food into new dishes – mainly because I hate to waste food when I could provide one more delicious meal from it, and also because that is the way of my ancestors. Today I'm going to show you how to take leftover chicken and turn it into these delicious chicken patties. This is perfect if you have fried chicken (take off skin and shred it up!), rotisserie chicken, or even leftover chicken fingers. If you've had these before, though, you'll know why a lot of people cook chicken just to be able to make them! I guess these are kind of like Salmon patties.
Asian Edamame Fried Rice
Make a healthier version of your favorite take-out! I'm a sucker for Chinese fried rice, but who knows how much oil is added when you order it out. Making it yourself is healthier and easy to do. For this healthy version of fried rice I used brown rice, edamame, carrots, scallions and onions. The beauty about making it yourself is you can add anything you want.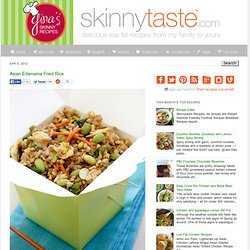 Easy Dinner Recipe: Slow-Cooker Black Bean Enchiladas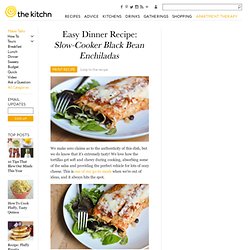 We make zero claims as to the authenticity of this dish, but we do know that it's extremely tasty! We love how the tortillas get soft and chewy during cooking, absorbing some of the salsa and providing the perfect vehicle for lots of oozy cheese. This is one of our go-to meals when we're out of ideas, and it always hits the spot.
Ruth's Chris Special Sweet Potato Casserole Recipe from CDKitchen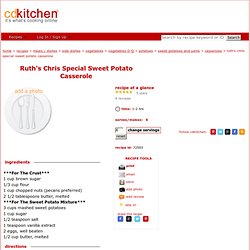 ingredients ***For The Crust***1 cup brown sugar1/3 cup flour1 cup chopped nuts (pecans preferred)2 1/2 tablespoons butter, melted ***For The Sweet Potato Mixture***3 cups mashed sweet potatoes1 cup sugar1/2 teaspoon salt1 teaspoon vanilla extract2 eggs, well beaten1/2 cup butter, melted directions Preheat oven to 350 degrees F. Combine brown sugar, flour, nuts and butter in mixing bowl. Set aside.
I have been having a Wonder Years marathon. Its pretty awesome. Did you know netflix now has all the seasons on instant? Did you know that Winnie Cooper grew up to be some brilliant math person who tweets palindromes? Did you know that Travis from Clueless (Breckin Myer) pretty much plays the same exact character on the early episodes of The Wonder Years also?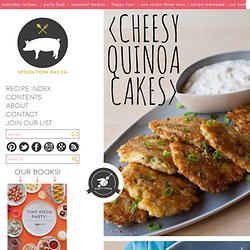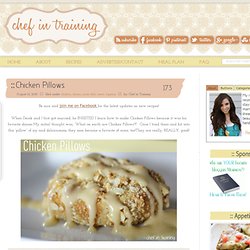 Be sure and join me on Facebook for the latest updates on new recipes! When Derek and I first got married, he INSISTED I learn how to make Chicken Pillows because it was his favorite dinner.My initial thought was, "What on earth are Chicken Pillows?!" Once I tried them and bit into this "pillow" of joy and deliciousness, they soon became a favorite of mine, too!They are really, REALLY, good! By Chef in Training August 21, 2010 Yummy pillows of Chicken and Pastry
Chicken Pillows
This is a very special recipe for two important reasons: One, it's delicious, hearty, and comforting. Noodles. Meatballs.