COOL
Eso es muy flora. Mer mag. Water footprint and virtual water. Earth Day 2012 | Earth Day Network. Pixabay - Imágenes de dominio público. Home [Monocle] DAYDREAM LILY. DECORACION guiaDKN - muebles, iluminacion y accesorios para tu casa. Halcyon days. Bike Baskets, Wald Bicycle Baskets, Front Baskets for Bikes, Rear Baskets, Bike Bungee Straps, ADVERTISING + BRANDING + DIGITAL AGENCY. Survival Kit "Just in Case" This end-of-the-world survival kit was crafted and designed in Mexico by Menosunocerouno.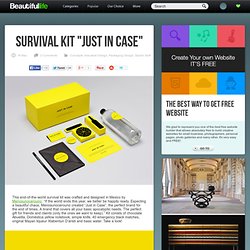 "If the world ends this year, we better be happily ready. Expecting a beautiful chaos, Menosunocerouno created "Just in Case", the perfect brand for the end of times. A brand that covers all your basic apocalyptic needs. The perfect gift for friends and clients (only the ones we want to keep)." Funked Up Fixies 2011. BLOWUP BLOG! NOGOODFORME.COM > style + pop culture > yr ultimate fashion mixtape > Love Archives.
Wednesday , November 4, 2009 Love: Envelop This is one of those sites that makes me rue the fact that I don't live in Europe!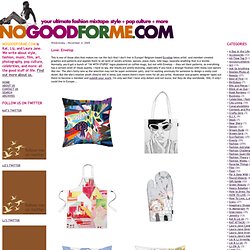 Belgium-based Envelop takes artist- and member-created graphics and patterns and applies them to all sorts of sundry articles: aprons, place mats, tote bags, basically anything that is a textile. Packaging | UQAM | Sylvain Allard. Pour répondre à mon dernier projet de session en design d'emballage, Nicolas Ménard s'est penché sur l'emballage du fameux logiciel québécois de correction Antidote.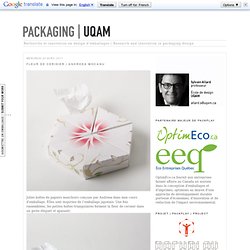 L'emballage original vraiment excessif et présenté ici comporte les éléments suivants :1 DVD1 boîte de carton avec colle (carton imprimé en quadrichromie et laminé )1 boîtier de DVD en plastique PS (non recyclable au Québec)1 feuille de présentation pour l'identité du boîtier de plastique pour DVD1 carton d'explications pour le numéro de série et le code d'activation2 signets (imprimés en quadrichromie et laminés ; non recyclables)1 livret (151 pages, reliure allemande,avec couverture en papier laminé)3 autocollants: 2 pour scellé la boite, 1 pour annoncer la compatibilité avec MS_Office.1 velcro In response to my last packaging design project, Nicolas Ménard looked at the packaging of the famous Quebecois text editor software Antidote. Simple & handmade. Love. Obsess. Inspire. Yesterday, I was luck enough to be given the chance to guest post over at Buttoned Up (thank you, ladies)!
Today, I couldn't be happier to return the favor by pass along some good advice from the masterminds behind Buttoned Up... By Sarah Welch & Alicia Rockmore Is your desk a disaster area? If you find yourself navigating mounds of papers each time you sit down, can never find a pen or pencil when you need one, or simply can't see the desktop, your desk qualifies! A cluttered work area is likely to contribute to higher levels of stress, either because there is too much information for your eye to process or because each time you approach your desk, you're reminded of how disorganized you are. Desenfoque gaussiano · Nice things, handmade, design & inspiration. Woodworking for engineers. Welcome to Boxsal. It's a pretty, fun, picnic in a box. | Boxsal. French Knot. Es cuestión de MADERA.
---