Social Media
Social Media's Productivity Payoff - James Manyika, Michael Chui, and Hugo Sarrazin. By James Manyika, Michael Chui, and Hugo Sarrazin | 8:00 AM August 21, 2012 How's this for counter-intuitive?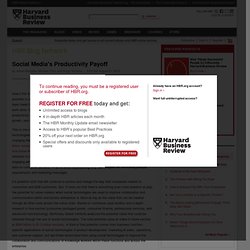 Social technologies — the software and services that make it possible to show off your vacation pictures to all your Facebook friends and follow your favorite team tweet by tweet — are not just giant time sinks that keep your employees from getting their work done. On the contrary, they may become the most powerful tools yet developed to raise the productivity of high-skill knowledge workers — the kind of workers who help drive innovation and growth, and who are going to be in increasingly short supply.
Community Management. Instagram. How to Create a Social Media Editorial Calendar. January is always a fresh time to fine tune online marketing habits.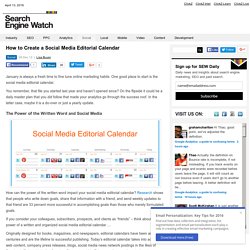 One good place to start is the social media editorial calendar. You remember, that file you started last year and haven't opened since? On the flipside it could be a daily master plan that you did follow that made your analytics go through the success roof. In the latter case, maybe it is a do-over or just a yearly update.
Google+
LinkedIn. Facebook. Social Media Measurement. YouTube. Twitter. Blogs. How to stay on top of your social media. A lot has been made of the benefits of social media for small business.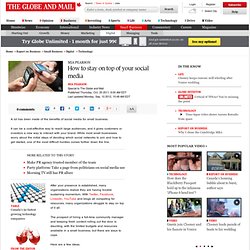 It can be a cost-effective way to reach large audiences, and it gives customers or investors a new way to interact with your brand. While most small businesses worry about the initial steps of deciding which social networks to join and how to get started, one of the most difficult hurdles comes further down the line. After your presence is established, many organizations realize they are having trouble sustaining momentum. With Twitter, Facebook, LinkedIn, YouTube and blogs all competing for resources, many organizations struggle to stay on top of it all. The prospect of hiring a full-time community manager and keeping fresh content rolling out the door is daunting, with the limited budgets and resources available in a small business, but there are ways to cope.
How to stand out in developing social media apps. Competition is fierce in the social media app world, but revenues are slim.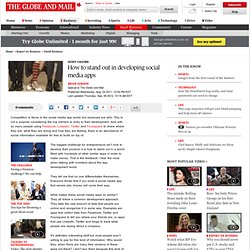 This is not a surprise considering the low barriers to entry to their development. And with so many people using Facebook, LinkedIn, Twitter and Foursquare to share where they are, what they are doing and how they are feeling, there is an abundance of social information available for free to build on top of. The biggest challenge for entrepreneurs isn't how to develop their product, it is how to stand out in a world filled with hundreds of other similar apps in order to make money.
That is the feedback I hear the most when talking with investors about the app development world. They tell me that no one differentiates themselves.
---