BOITE A OUTILS NUMERIQUE
Free Hosting
Byet provides you with an ad-free load balanced free hosting service including PHP, MySQL, FTP, Vistapanel & more!. For any web site from a small business brochure, pictures of a tropical holiday, to powerful dynamic websites for a gaming clan etc, Byet Internet has the right services for you and at the right price... $0.00! Byet gives you the choice of your sub domain. You can stick with yoursite.byethost.com, or you can pick from another 7 great names we have available.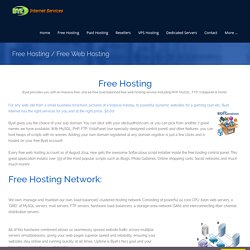 Your best resource for downloading freeware and shareware utilities KoyoteSoft offers you easy-to-use free software downloads for all your audio and video needs. Our software provides you with solutions for Searching, downloading and converting YouTube videos, converting video files to many popular formats, converting audio files to and from MP3, WMA, WAV, watching and converting Flash files, Ripping audio files from CDs to MP3, WAV and FLAC, Burning and creating CDs and DVDs, converting HD Camcorder recordings, saving ISO Image files, creating high-quality ringtones, jingles and audio effects, transferring songs to your iPod, recording computer screen activities, and more. So go ahead and try it- download our software now!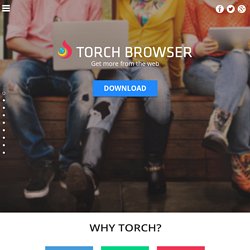 MySQL et phpMyAdmin - Premiers pas pour grand débutant :)
Stockage en ligne Sur Internet, il existe de multiples solutions pour stocker ses documents personnels dans le nuage, le cloud voyons!!! Pour la plupart, elles proposent un espace de stockage gratuit et des options payantes, elles se révèlent d'intéressants outils de sauvegarde et de partage. Icones gratuites pour votre site Pas toujours évident de trouver la bonne collection d'icones, en effet elle doit être de bonne qualité graphique, adaptée à la charte graphique et gratuite de préférence!!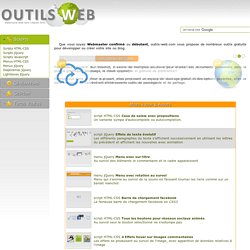 Découvrez CountUs 7 ! CountUs a aujourd'hui 6 ans. Pour feter cet anniversaire royalement, CountUs s'offre une seconde jeunesse avec cette version.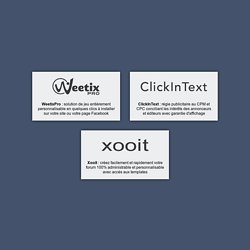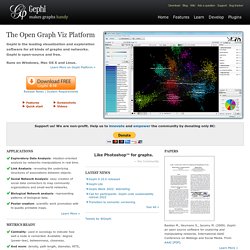 Applications Exploratory Data Analysis: intuition-oriented analysis by networks manipulations in real time. Link Analysis: revealing the underlying structures of associations between objects, in particular in scale-free networks. Social Network Analysis: easy creation of social data connectors to map community organizations and small-world networks. Biological Network analysis: representing patterns of biological data.
I help people maximize the potential of their blog... Majority of blogs die within few months of conception. Mostly because they fail to reach the blogger's expectations.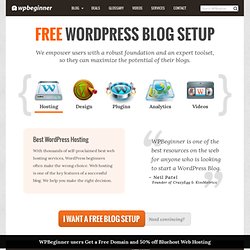 Free WordPress Blog Setup