Venture Capital
M&A
January 2012 Top 100 Venture Capitalists to Follow on Twitter. Health Care VC. Venture Capital/Startups. The Current State of Venture Capital. Corporate VC. Russia. Bringing Back the Forbes Midas List of Top Venture Capitalists - Nicole Perlroth - Everything Ventured. Incubators. Groups/Organizations. VCJ. Angels. Secondaries / Exchanges. Back To The Future For Venture Capital Funds? - Venture Capital Dispatch. This Just Ain't Gonna Work Out « The Cornice. It's easy to adapt to challenges you face many times.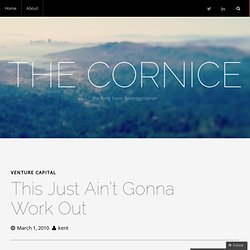 It's difficult to be good at the things you rarely confront. Knowing how to adapt to seldom seen circumstances is the key to driving a start-up forward. This past January, we held our annual First Round Capital CEO Summit to bring together our portfolio company CEOs and founders for a day. Our goal is to keep the day focused on topics that the CEOs can use in the daily operations of their businesses. We've been luck enough to have some great speakers join us, but the meat of the day is in the breakout discussions.
Europe
18 Zombie Venture Capital Firms - Maureen Farrell - Scaling Up. China VC/startups. VC - Silicon Valley ecosystem. The Seven Best Places to Close a Deal in Silicon Valley. Larry Chiang12/13/10 I like studying what works and what doesn't.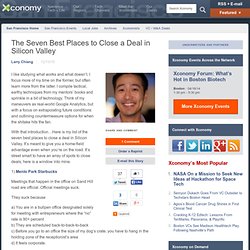 I focus more of my time on the former, but often learn more from the latter. I compile tactical, earthy techniques from my mentors' books and sprinkle in a bit of technology. Think of my maneuvers as real-world Google Analytics, but with a focus on extrapolating future conditions and outlining countermeasure options for when the shitake hits the fan. Venture Capital / Angels.
VCs + Investors
---