Steve Jobs
Having just finished reading Walter Isaacson's engaging biography of Steve Jobs, I am struck yet again by our country's twisted values.
Joel Drucker: Steve Jobs -- Does the Ends Justify the Means?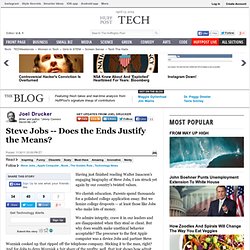 Internal Affairs: Steve Jobs' menu choices vetoed by White House
Steve Jobs, known as the brilliant dictator of Apple, was overruled by the White House when he tried to pick the menu for the dinner Silicon Valley venture capitalist John Doerr hosted for President Barack Obama in February.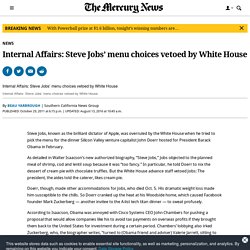 People pay their respects to Steve Jobs, who died today, by leaving flowers outside the Apple store in downtown San Francisco. (Credit: Boonsri Dickinson) From one coast to the other, ordinary men and women bowed their heads in tribute to a man who changed the technology world in extraordinary ways.
Public pays tribute to Steve Jobs at Apple stores | Apple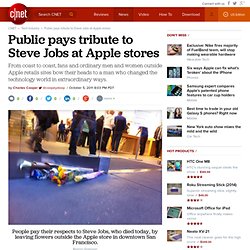 Apple has announced that Steve Jobs , the tech company's legendary co-founder and CEO since 1997, has died. It is a sad day, and one to remember and celebrate the life of one of the most insightful, brilliant, successful--and, yes--quotable geniuses in tech history.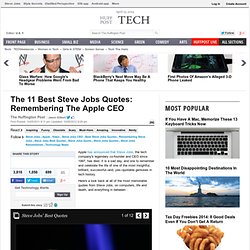 The 11 Best Steve Jobs Quotes: Remembering The Apple CEO
Dispute Over Apple Image Shows Internet's Reach
The tributes to Dennis Ritchie won't match the river of praise that spilled out over the web after the death of Steve Jobs.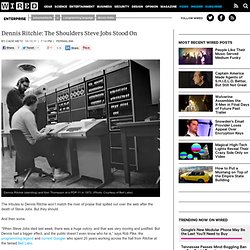 Dennis Ritchie: The Shoulders Steve Jobs Stood On | Wired Enterprise
As per usual, Google put out various, elaborate April Fools Day jokes, which only reminded everyone how much time and money the tech company has to spend on projects that aren't core products like, ahem, Google Reader. For those too busy to follow along, The Next Web has a running list of the myriad pranks.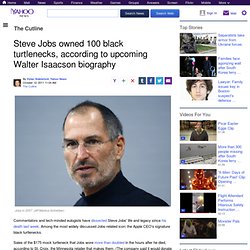 Steve Jobs owned 100 black turtlenecks, according to upcoming Walter Isaacson biography | The Cutline
Biz-Tech 3.0 - IT Careers - Where Were You When You Heard the News About Steve Jobs?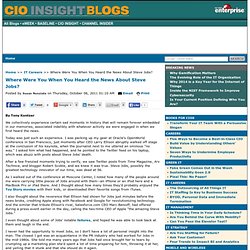 We collectively experience certain sad moments in history that will remain forever embedded in our memories, associated indelibly with whatever activity we were engaged in when we first heard the news.
Steve Jobs Death: Steve Jobs Tribute for the Misfits: To Your Vision, Your Fire, Your Creativity & Those You Moved to Genius...