Steve Jobs
Joel Drucker: Steve Jobs -- Does the Ends Justify the Means? Having just finished reading Walter Isaacson's engaging biography of Steve Jobs, I am struck yet again by our country's twisted values.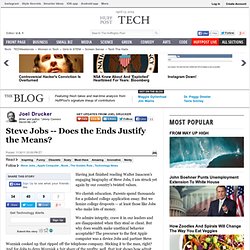 We cherish education. Parents spend thousands for a polished college application essay. But we lionize college dropouts -- at least those like Jobs who make lots of money. Internal Affairs: Steve Jobs' menu choices vetoed by White House. By the Mercury News Posted: 10/30/2011 12:15:24 AM PDT0 Comments|Updated: 2 years ago Steve Jobs, known as the brilliant dictator of Apple, was overruled by the White House when he tried to pick the menu for the dinner Silicon Valley venture capitalist John Doerr hosted for President Barack Obama in February.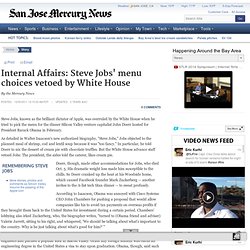 Public pays tribute to Steve Jobs at Apple stores | Apple. From one coast to the other, ordinary men and women bowed their heads in tribute to a man who changed the technology world in extraordinary ways.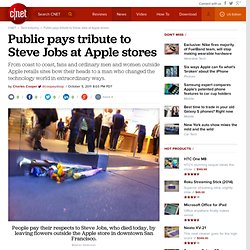 Not long after hearing the newsthat Apple co-founder Steve Jobs had died , people at Apple stores stopped to share their reactions. "He was kind of like this generation's John Lennon," said Frank Arico, 58, a software developer visiting San Francisco for the Oracle OpenWorld conference this week. The 11 Best Steve Jobs Quotes: Remembering The Apple CEO. Apple has announced that Steve Jobs, the tech company's legendary co-founder and CEO since 1997, has died.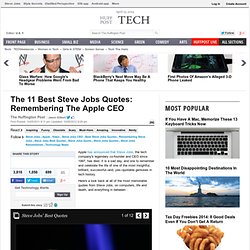 It is a sad day, and one to remember and celebrate the life of one of the most insightful, brilliant, successful--and, yes--quotable geniuses in tech history. Here's a look back at all of the most memorable quotes from Steve Jobs, on computers, life and death, and everything in between : Loading Slideshow "We've never worried about numbers. In the market place, Apple is trying to focus the spotlight on products, because products really make a difference. [...] Dennis Ritchie: The Shoulders Steve Jobs Stood On | Wired Enterprise. Dennis Ritchie (standing) and Ken Thompson at a PDP-11 in 1972.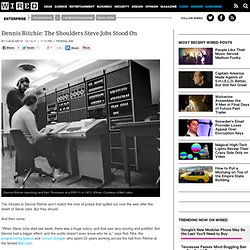 (Photo: Courtesy of Bell Labs) The tributes to Dennis Ritchie won't match the river of praise that spilled out over the web after the death of Steve Jobs. But they should. And then some. Steve Jobs owned 100 black turtlenecks, according to upcoming Walter Isaacson biography | The Cutline. Jobs in 2007.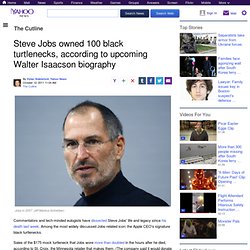 (AP/Markus Schreiber) Commentators and tech-minded eulogists have dissected Steve Jobs' life and legacy since his death last week. Among the most widely discussed Jobs-related icon: the Apple CEO's signature black turtlenecks. Sales of the $175 mock turtleneck that Jobs wore more than doubled in the hours after he died, according to St. Croix, the Minnesota retailer that makes them. Biz-Tech 3.0 - IT Careers - Where Were You When You Heard the News About Steve Jobs? By Tony Kontzer We collectively experience certain sad moments in history that will remain forever embedded in our memories, associated indelibly with whatever activity we were engaged in when we first heard the news.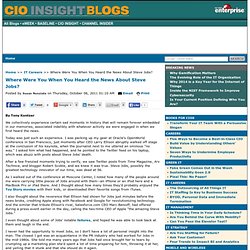 Today was just such an experience. I was packing up my gear at Oracle's OpenWorld conference in San Francisco, just moments after CEO Larry Ellison abruptly walked off stage at the conclusion of his keynote, when the journalist next to me uttered an ominous "no way. " I asked him what had happened, and he pointed to the Twitter feed on his laptop, which was abuzz with posts about Steve Jobs' death. What Everyone Is Too Polite to Say About Steve Jobs. [www.youtube.com] Just a note on this subject.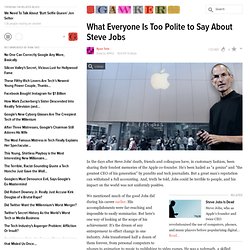 Jobs obsessed on US manufacturing when the Macintosh and later the NeXT Computers were first announced. Steve Jobs Death: Steve Jobs Tribute for the Misfits: To Your Vision, Your Fire, Your Creativity & Those You Moved to Genius...
---