Photo | places | NYC
» The first aerial photograph of Lower Manhattan. NYC Fractal. NYC Municipal Archives. Welcome to the New York City Municipal Archives Online Gallery of over 900,000 images.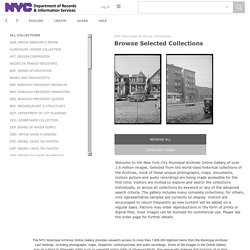 Selected from the world-class historical collections of the Archives, most of these unique photographs, maps, motion picture and audio recordings are being made accessible for the first time. Visitors are invited to explore and search the collections individually, or across all collections by keyword or any of the advanced search criteria. The gallery includes many complete collections; for others, only representative samples are currently on display. Visitors are encouraged to return frequently as new content will be added on a regular basis. Patrons may order reproductions in the form of prints or digital files; most images can be licensed for commercial use.
Hurricane Sandy: After Landfall - In Focus. Last night, Hurricane Sandy -- the largest Atlantic tropical system on record -- made landfall just south of Atlantic City, New Jersey, bringing winds up to 90 mph (150 kph), and pushing a massive storm surge onto beaches and shorelines.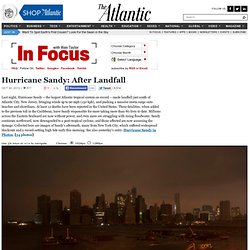 At least 12 deaths have been reported in the United States. These fatalities, when added to the previous toll in the Caribbean, leave Sandy responsible for more taking more than 80 lives to date. NYC Unplugged, Long Exposure Photos of New York City During the Power Outage Blackouts. Aerial Views of the Sandy Blackout. The editor's letter in this week's New York Magazine tells the story of how the staff put the issue together after our downtown offices were flooded.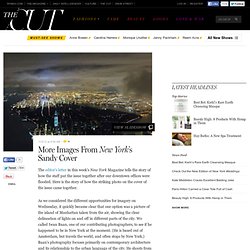 Here is the story of how the striking photo on the cover of the issue came together. As we considered the different opportunities for imagery on Wednesday, it quickly became clear that one option was a picture of the island of Manhattan taken from the air, showing the clear delineation of lights on and off in different parts of the city. We called Iwan Baan, one of our contributing photographers, to see if he happened to be in New York at the moment. The Best Aerial Image of New York City You'll Ever See - Alexis C. Madrigal. This is a great image of a city that seems designed to bring great images into being.
Sergey Semonov, a Russian photographer, submitted the image to the Epson International Photographic Pano Awards , and took first prize in the amateur category. Semonov works on a small noncommercial team called AirPano , which travels the globe creating these 3D aerial panoramas . They shoot from helicopters and then stitch the images together. Mostly, they produce these spherical panoramas that I find confusing to navigate, but clearly this one has been flattened for our viewing pleasure.
---