Jan 2012
'How To Vacuum Form' at Aram Bartholl. Track byDanny Dive Thru I am very pleased to finally publish this new project I've been working on the last couple months (def. not a Speed Project ;) It was premiered last week at my solo show opening 'Reply All' at [DAM] Berlin.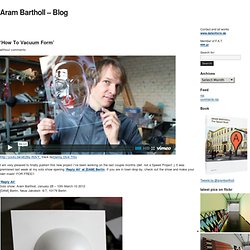 If you are in town drop by, check out the show and make your own mask! FOR FREE!! 'Reply All' Solo show: Aram Bartholl, January 28 – 10th March 10 2012 [DAM] Berlin, Neue Jakobstr. 6/7, 10179 Berlin Materials: TKR@tumblr. The Lively Morgue. June 3, 1933: A drydock inspection of one of the S.S.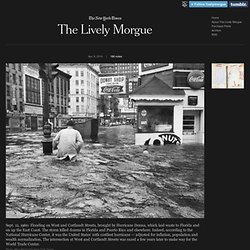 Manhattan's propellers in Brooklyn, claimed by the caption to drive the ship two feet forward with every revolution, which could bring it to speeds of 21 knots "with only five boilers in use." An article published Aug. 13, 1932, reported that the Manhattan carried three stowaways — "Arnold Ronner, 19, of Hartford, and Steve Bohnensteuger, 22, of Manheim, Germany …, and Charles Lake, 21, of Clinton, Iowa, farmer boy, in the first class hold" — and that there was a "thé-dansant on the veranda deck" that afternoon. Photo: The New York Times. Fiz-iks.
---