F.a.t. lab
HOW TO: FREE WIFI FOR LIFE. It's not 1988 so why live like it is?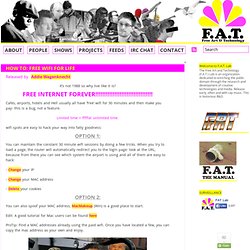 Cafes, airports, hotels and Hell usually all have 'free' wifi for 30 minutes and then make you pay- this is a bug, not a feature. Limited time = fffffat unlimited time. wifi spots are easy to hack your way into fatty goodness: You can maintain the constant 30 minute wifi sessions by doing a few tricks. Obama Google Glass PRISM mask. During Obamas visit in Berlin he beta tested surprisingly a pair of Google Glass and was very much impressed by its cutting edge features made possible through the #PRISM program.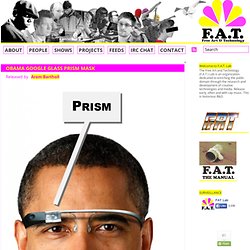 Throughout the day he was spotted in different historic locations of the city. The press was all excited about getting the first pictures of Obama with Google Glass.
F.A.T GOLD Europe. EyeWriter. Addie Wagenknecht. Addie Wagenknecht was born in an airport terminal somewhere in Oregon, or so it has been suggested.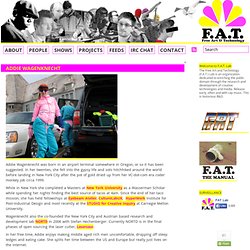 In her twenties, she fell into the gypsy life and solo hitchhiked around the world before landing in New York City after the pot of gold dried up from her VC-dot-com era coder monkey job circa 1999. While in New York she completed a Masters at New York University as a Wasserman Scholar while spending her nights finding the best source of tacos at 4am. Since the end of her taco mission, she has held fellowships at Eyebeam Atelier, CultureLabUK, HyperWerk Institute for Post-Industrial Design and most recently at the STUDIO for Creative Inquiry at Carnegie Mellon University. Scratch Markup Language (.sml) SML (Scratch Markup Language) is a new file format for recording and replaying turntablism.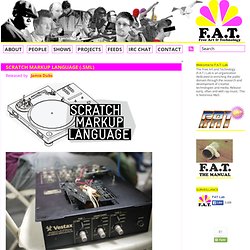 We've developed open-source tools for accurately capturing the record and crossfader movements of a scratch DJ, allowing us to analyze, transcribe, and recreate scratch performances. We want to do for turntablism what Graffiti Markup Language has done for tagging — especially teaching giant robot arms how to scratch. At Art Hack Day we collaborated with other artists and programmers to develop the first prototypes of ScratchML. We used timecode vinyl to capture record movements ($10) and a hacked VCA fader + Arduino to record the crossfader ($30). Graffiti Markup Language. How to get your Art in the MoMA. 1.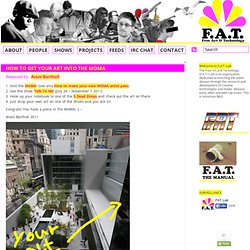 Visit the MoMA! (see also How to make your own MOMA artist pass) 2. See the show 'Talk To Me' (July 24 – November 7 2011) 3. Hook up your notebook to one of the 5 Dead Drops and check out the art on there. 4. How To Turn Code Into Art. Art aware hackers!!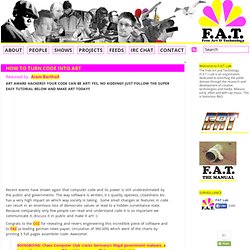 Your code can be art! Yes, no kidding!! Just follow the super easy tutorial below and make art today!! Recent events have shown again that computer code and its power is still underestimated by the public and governments. The way software is written, it s quality, openess, closedness etc. has a very high impact on which way society is taking. People Staring at Computers.
"People Staring at Computers" is a photographic intervention.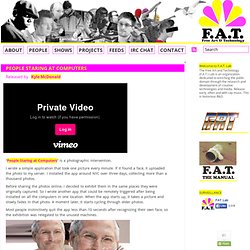 I wrote a simple application that took one picture every minute. If it found a face, it uploaded the photo to my server. I installed the app around NYC over three days, collecting more than a thousand photos. Before sharing the photos online, I decided to exhibit them in the same places they were originally captured. So I wrote another app that could be remotely triggered after being installed on all the computers in one location. At 2 Apple Stores, Creating Art via Webcam, Secretly. Having collected 1,000 pictures, Mr.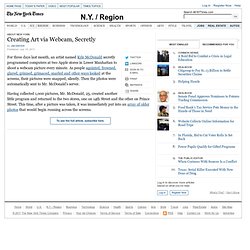 McDonald, 25, created another little program and returned to the two stores, one on 14th Street and the other on Prince Street. This time, after a picture was taken, it was immediately put into an array of older photos that would begin running across the screens. Suddenly, people sitting at the computers were looking at pictures of themselves that dissolved into photos of others who also had gazed into the screens. Ai Weiwei – FUCK OFF – Bookmarklet. Say it like Ai Weiwei!!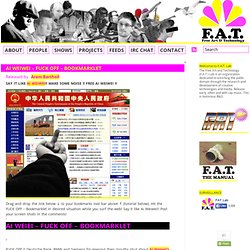 Make some noise !! Free Ai Weiwei !! Drag and drop the link below ↓ to your bookmarks tool bar above ↑ (tutorial below). Hit the FUCK OFF – Bookmarklet in desired situation while you surf the web! Say it like Ai Weiwei!! FREE Ai Weiwei – glasses !! QR Code Stencil Generator and QR Hobo Codes. Yep, it's a QR code stencil generator!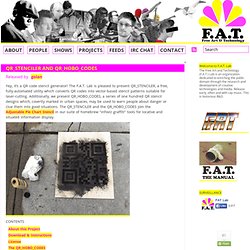 The F.A.T. Lab is pleased to present QR_STENCILER, a free, fully-automated utility which converts QR codes into vector-based stencil patterns suitable for laser-cutting. Additionally, we present QR_HOBO_CODES, a series of one hundred QR stencil designs which, covertly marked in urban spaces, may be used to warn people about danger or clue them into good situations. Off Book | Hacking Art & Culture with F.A.T. Lab | PBS. Occupy The Internet. Occupy The Internet Phase 2. Occupy the Internet Exhibition is Open! The Occupy the Internet Exhibition is now live on 866+ websites until the end of the day Friday (Nov. 4). Pour yourself some Champaign and point your browser to any occupied website.
Participating artists (view all gifs at full resolution here):Aram Bartholl: (.gif)Brad Downey: (.gif)Constant Dullaart: (.gif)Dragan Espenschied: (.gif)Mark Jenkins: (.gif)moot: (.gif)La Quadrature Du Net: (.gif)Olia Lialina: (.gif)Jonah Peretti & Chelsea Peretti: (.gif | .gif)Ryder Ripps: (.gif)Rafael Rozendaal: (.gif)Telecomix: (.gif)Charlie Todd: (.gif)UBERMORGEN: (.gif) Curated by Evan Roth Coded by Jamie Wilkinson Code for Occupy the Internet by Greg, Theo, Jamie and Tobi. How To Vacuum Form. Track byDanny Dive Thru I am very pleased to finally publish this new project I've been working on the last couple months (def. not a Speed Project ;) It was premiered last week at my solo show opening 'Reply All' at [DAM] Berlin.
If you are in town drop by, check out the show and make your own mask! Stop SOPA Blackout. Used on nearly 200 websites on Jan 18th's internet strike! The SOPA (H.R.3261) & PIPA (S.968) are terrible pieces of legislation that gives broad powers for the courts to take down sites by claims from "infringed" users. If SOPA or PIPA are voted for by Congress, it could devastate the artistic expression and livelihood of many artists, hackers, and entrepreneurs.
Protest the SOPA/PIPA bills and install the blackout code on your site to let your visitors know what they could miss out if SOPA/PIPA do pass. Paste this code into your Tumblr themes, website, and more… The color can also be changed to a hex code, an rgb(), or rgba() format.
---