Anonymous
Les Anonymous recrutent !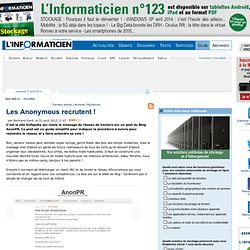 par Bertrand Garé , le 31 août 2012 11:47
Anonymous - Fighting Trapwire. (#OpTrapWire)
Anonymous attaque la muraille de la censure chinoise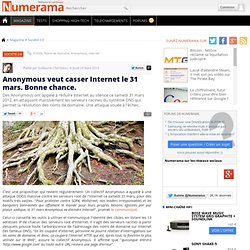 Anonymous veut casser Internet le 31 mars. Bonne chance.
C'est une proposition qui revient régulièrement. Un collectif Anonymous a appelé à une attaque DDOS massive contre les serveurs root de l'internet ce samedi 31 mars, pour des motifs très vastes. " Pour protester contre SOPA, Wallstreet, nos leaders irresponsables et les banquiers bien-aimés qui affament le monde pour leurs propres besoins égoïstes par pur plaisir sadique, le 31 mars Anonymous va éteindre Internet ", promet le communiqué . Celui-ci conseille les outils à utiliser et communique l'identité des cibles, en listant les 13 adresses IP de chacun des serveurs root d'Internet.
(Credit: Screenshot by Dara Kerr/CNET) Hundreds of protests around the world sparked up on Tuesday in what the hacking collective Anonymous called the "Million Mask March." Donning Guy Fawkes masks, the demonstrators' goal was to "defend humanity."
Anonymous' 'Million Mask March' goes global | Security & Privacy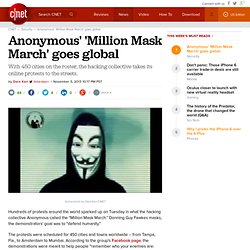 The Million Mask March, a global movement purporting to be fighting corruption and social injustice, was mirrored by similar gatherings reported in more than 400 cities worldwide including Dublin, Washington and Melbourne. Wearing Guy Fawkes masks, crowds gathered in Trafalgar Square from early on Tuesday afternoon later moved to the Queen Victoria Memorial. While the march was mainly peaceful, there were sporadic outbreaks of violence when police tried to move protesters. A firework was reportedly fired at Buckingham.
Scuffles near Buckingham Palace as protesters join Million Mask March - Home News - UK
Protesters gather around the world for Million Mask March | World news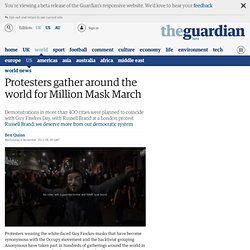 Russell Brand attended the Million Mask March in London. Photograph: Ik Aldama/Demotix/Corbis Protesters wearing the white-faced Guy Fawkes masks that have become synonymous with the Occupy movement and the hacktivist grouping Anonymous have taken part in hundreds of gatherings around the world in opposition to causes ranging from corruption to fracking.
Anonymous Has Just Released Its Own Operating System
For reasons unknown at the moment, the famous and perhaps infamous hacker group Anonymous has just released its own OS.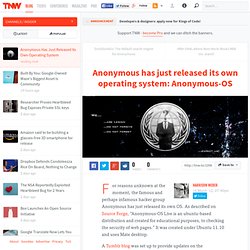 For reasons unknown at the moment, the famous and perhaps infamous hacker group Anonymous has just released its own OS. As described on Source Forge, "Anonymous-OS Live is an ubuntu-based distribution and created for educational purposes, to checking the security of web pages." It was created under Ubuntu 11.10 and uses Mate desktop. by agnesdelmotte Mar 15
La réaction des responsables de SourceForge n'aura pas traîné. Face aux inquiétudes suscitées par le projet Anonymous OS , un système d'exploitation aux couleurs du mouvement hacktiviste, la plate-forme d'hébergement a opté pour une solution radicale. Le logiciel a été supprimé purement et simplement du site communautaire, au motif que sans confiance, l'open source ne peut avancer.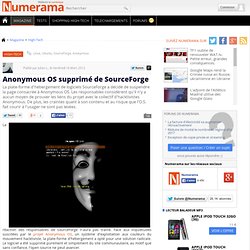 Anonymous OS supprimé de SourceForge
Attention, une mise à jour importante a été publiée (voir à la fin de cet article). Alors qu'il apparaît que les internautes possèdent de plus en plus d'influence sur les décisions prises dans la vraie vie (recul de l'ACTA ou de la SOPA par exemple), le pouvoir symbolique des Anonymous n'est plus un paramètre à ignorer lors d'un communiqué officiel.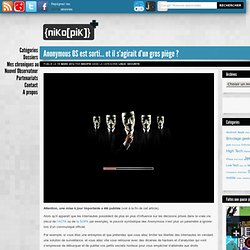 Anonymous OS est sorti… et il s'agirait d'un gros piège ?
The 2012 Anonymous Primer – What Anonymous is and What Anonymous is not <br />Guest Post by Natter
The 2012 Anonymous Primer – What Anonymous is and What Anonymous is not Guest Post by Natter This is not a time line, biography, or history lesson, nor is it in any way complete.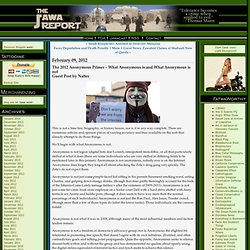 The 2012 Anonymous Primer – What Anonymous is and What Anonymous is not by agnesdelmotte Mar 8
Lulzsec est mort, vive Anonymous
7 mars 2012 Parlons peu, parlons bien, parlons « internet is serious bizness ». Jeudi dernier, au salon du livre de Bruxelles, je discutais avec une coolos lectrice du blog qui m'a dit "c'est dommage que tu ne parles plus des Anonymous, par exemple Lulzsec, c'était intéressant".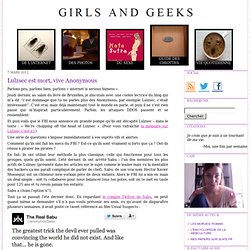 Lulzsec est mort, vive Anonymous by agnesdelmotte Mar 7
La branche française du collectif informel Anonymous a décidé de prendre la parole, collectivement, en suivant un protocole strict.
Paroles d'Anonymous
Protestation contre SOPA, PIPA et ACTA , affaire Megaupload , clash avec Christophe Barbier , membres mis en garde à vue en France... Le mouvement Anonymous refait parler de lui.
Newspaper seller, Paris
La Direction centrale du renseignement intérieur (DCRI) part en guerre contre les Anonymous. Jeudi, deux membres supposés étaient mis en examen dans le cadre d'une enquête sur "Greenrights" ; une opération numérique visant notamment les serveurs d'EDF. Nous nous sommes entretenus en exclusivité avec Pierrick Goujon, l'un de ces soi-disant Anonymous que la DCRI a arrêté.
9 February 2012 Last updated at 20:03 ET By Alan Moore Author
Viewpoint: V for Vendetta and the rise of Anonymous