Télécoms
Xavier Niel (Iliad) est muet, mais très suivi - Patron Twitter - Journal du Net Economie
Consultants et ingénieurs Group News
Billing systems can be divided into two major functions: the front-end and back-end processes. The front-end process accepts messages from a service providers' own switches or from other telephone or billing company's systems (called incollects), checks the validity of billing records, matches billing records to customers in a database, and provides billing details to other systems (called outcollects). The front-end process also guides billing records to specific customer accounts. Guiding uses the call detail record identification information such as the calling telephone number to match the billing record to a specific customer account. The back-end of the billing system aggregates billing records for a specific period (billing cycle), calculates recurring charges (e.g. monthly charges) and total usage charges (minutes or quantity of usage), and produces invoices.
Call Processing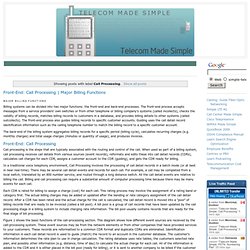 Les opérateurs télécoms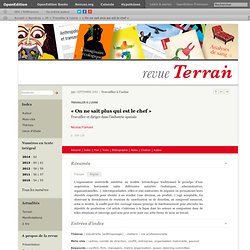 1 Cet article s'appuie sur une enquête de plusieurs années menée auprès des cadres d'une entreprise aé (...) 1Nous sommes en fin de semaine, à la division Nord de la Société Défense Espace (SDE) 1. Comme chaque vendredi après-midi, accompagné de quelques-uns de ses ingénieurs de programme, Etienne Messier rencontre le directeur de la production et ses principaux collaborateurs. Etienne Messier est directeur de programme. Il est responsable du développement d'organes qui viendront équiper le lanceur spatial Ariane.
Consultants et ingénieurs Group News
Asia-Pacific Telecommunications Group News
Skip to main content LinkedIn Home Main content starts below. Pulse The news and insights you need to know. Top Posts Today