Comunnication
BLOG-IN / DAILY - Le Best of des Tweets 2012 par Havas Paris. Publié le 17 décembre 2012 2012 a été incontestablement l'année Twitter, et pour célébrer l'avènement des tweets en France, le pays où soi- disant on comprend moyennement le digital, Havas WorldWide Paris présente une jolie infographie sur le sujet.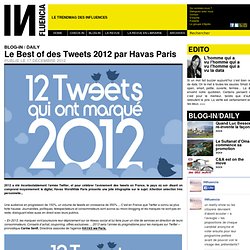 Attention sélection très personnelle... Une audience en progression de 150%, un volume de tweets en croissance de 350% ... Devis-magazine. Inspiration. Print.
Illustration #7 on Behance. Lavigiedelacom. Self Portraits. Viewbix - Empower your video. Add apps to any video: YouTube, Vimeo, Facebook. Add a call-to-action. Info-graphie.
---