Cinema 4d ressources
3D - [Problème] Cinéma 4D -> After Effect | forums | Tuto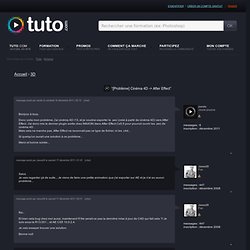 "[Problème] Cinéma 4D -> After Effect" Bonjour à tous, Donc voila mon problème, j'ai cinéma 4D r13, et je voudrai exporter le .aec (créé à partir de cinéma 4D) vers After Effect. J'ai donc mis le dernier plugin sortie chez MAXON dans After Effect Cs5.5 pour pouvoir ouvrir les .aec de cinéma 4D. Mais cela ne marche pas, After Effect ne reconnait pas ce type de fichier, ni les .c4d... Si quelqu'un aurait une solution à ce problème...
Aec Camera Data - C4D Cafe
Kola Blog : des vidéos de formation gratuites sur le motion design
The next version of After Effects has been announced, with some terrific new features and enhancements. In this short tutorial I focus on Key Cleaner & Advanced Spill Suppressor, Curves enhancements and the exciting and welcome new compositing options for effects. Inspired by the movie "Frozen", in this tutorial I demonstrate how I combined Artbeats footage with only the default Adobe After Effects tools, to create a realistic frosty window effect.
After Effects and Cinema 4D Training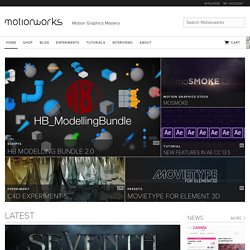 helloluxx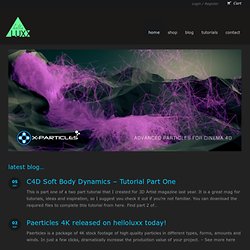 latest blog… In this short class I quickly mention some of the new features in the newest Nuke version, I talk about 1-on-1 training, and about the upcoming course subjects. Some of the subjects will be: Introduction New Features Roto/RotoPaint Tracking Keying Python Gizmos BlinkScript Colour Management Particles Deep Compositing 3D Compositing And in case you have… Hey everyone! Yesterday The Foundry team released Nuke 8, which have gotten a lot of improvements, as well as new features. So I suggest that we will start out the list of coming Nuke tutorials with an introduction to Nuke and Nuke 8′s new features.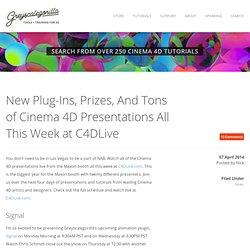 blog
Congratulations to Michael Rinnan for winning the Five Second Project for March. His entry had a great concept and was outfitted with excellent lighting, atmosphere, camera movements and sound design. We wanted to know a little bit more about Michael's entry, so we asked him a few questions regarding his workflow and the process for creating his winning piece. Where do you work? What is your title?
French Cinema4D - Accueil