Cinema 4d ressources
3D - [Problème] Cinéma 4D -> After Effect | forums | Tuto. "[Problème] Cinéma 4D -> After Effect" Bonjour à tous, Donc voila mon problème, j'ai cinéma 4D r13, et je voudrai exporter le .aec (créé à partir de cinéma 4D) vers After Effect.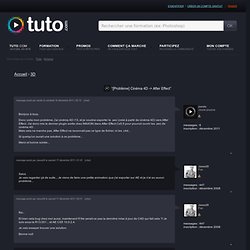 J'ai donc mis le dernier plugin sortie chez MAXON dans After Effect Cs5.5 pour pouvoir ouvrir les .aec de cinéma 4D. Mais cela ne marche pas, After Effect ne reconnait pas ce type de fichier, ni les .c4d... Si quelqu'un aurait une solution à ce problème... Aec Camera Data. Kola Blog : des vidéos de formation gratuites sur le motion design. After Effects and Cinema 4D Training. Helloluxx. Blog. Congratulations to Michael Rinnan for winning the Five Second Project for March.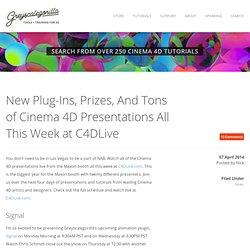 His entry had a great concept and was outfitted with excellent lighting, atmosphere, camera movements and sound design. We wanted to know a little bit more about Michael's entry, so we asked him a few questions regarding his workflow and the process for creating his winning piece. Where do you work? What is your title?
French Cinema4D - Accueil.
---