Quotes
30 Dr. Seuss Quotes to Live By - StumbleUpon. An Essay by Einstein -- The World As I See It - StumbleUpon. "How strange is the lot of us mortals!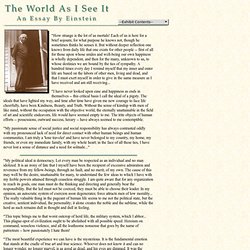 Each of us is here for a brief sojourn; for what purpose he knows not, though he sometimes thinks he senses it. But without deeper reflection one knows from daily life that one exists for other people -- first of all for those upon whose smiles and well-being our own happiness is wholly dependent, and then for the many, unknown to us, to whose destinies we are bound by the ties of sympathy. A hundred times every day I remind myself that my inner and outer life are based on the labors of other men, living and dead, and that I must exert myself in order to give in the same measure as I have received and am still receiving...
- StumbleUpon. 40 Belief-Shaking Remarks From a Ruthless Nonconformist | Raptitude.com - StumbleUpon. If there's one thing Friedrich Nietzsche did well, it's obliterate feel-good beliefs people have about themselves.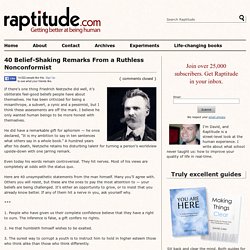 He has been criticized for being a misanthrope, a subvert, a cynic and a pessimist, but I think these assessments are off the mark. I believe he only wanted human beings to be more honest with themselves. He did have a remarkable gift for aphorism — he once declared, "It is my ambition to say in ten sentences what others say in a whole book." A hundred years after his death, Nietzsche retains his disturbing talent for turning a person's worldview upside-down with one jarring remark. Even today his words remain controversial.
---