Photoshop
PsAwesome★ Awesome Photoshop Tutorials. 100 Creative Photoshop Text Effects Tutorials. If your next design project involves some manipulation of typeface, you do not want to miss this article.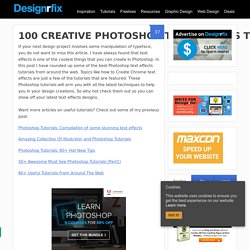 I have always found that text effects is one of the coolest things that you can create in Photoshop. In this post I have rounded up some of the best Photoshop text effects tutorials from around the web. Topics like how to Create Chrome text effects are just a few of the tutorials that are featured. Photoshop tutorials, plugins and downloads : The Photoshop Roadmap. Create an Editable On Screen Text Effect using Smart Objects « PsAwesome★ Awesome Photoshop Tutorials.
In this Awesome★ Photoshop tutorial, i'm going to show you how to create an editable screen shot text effect.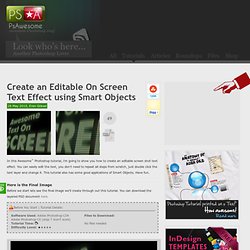 You can easily edit the text, you don't need to repeat all steps from scratch, just double click the text layer and change it. This tutorial also has some good applications of Smart Objects. Have fun. Here is the Final Image Before we start lets see the final image we'll create through out this tutorial. You can download the layered PSD document here. Free Photoshop Brushes at Brusheezy!
---