Typo
Type is typically one-color. Of course, after it's set, a user can manipulate letters with a texture or a gradient; but out of the box, a font is usually capable of a single color. This is where layer fonts change the game. With glyphs that are designed to be overlaid on top of each other, layer fonts make it easy to apply multiple colors and other effects without extra steps or leaving the comfort of your typesetting or layout app. Multi-layered type is not a new concept. "Chromatic" wood fonts for printing large headlines in two or more colors were common way back in the mid-1800s.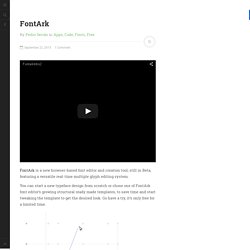 T Y P E F I G H T
Here's a glorious bit of design nostalgia for the New Year. It's hardly a new find on the web; designer Nick Job first started this archive of the British Rail identity manuals in 2011, but I've just been reminded of it. Somehow I've never written about it either, which is a bit of an oversight given the entirely-unofficial and tongue in cheek name of this site: the British Rail alphabet and signage guidelines were also used by the British Airports Authority and National Health Service, making them as much a government standard as Britain ever usually manages. The alphabet had two variants, one for dark-on-light type and one for light-on-dark. Light (and illuminated) type on dark backgrounds creates an optical effect known as 'halation' - i.e. it develops a halo, a slight sense of the letterforms being thicker than they are.
Underware
This is a custom made alphabet made for an album cover. The tools used in this project are soil, home-made light table, paint brush, camera and photoshop. After the photoshoot, the individual letters was put together in photoshop and adjusted on top of the font that was used as a template. Yes, I had a print out of the alphabet beside me when i formed the soil. I decided it was a safe thing to do for maximum readability on the finished alphabet. And this is the album cover this typography was made for.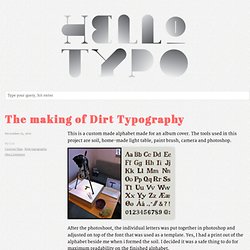 Trondheim Type Club says HelloTypo™ – Typography news, ideas and inspiration