Vidéo
Great Scenes: Of Human Bondage
Thoroughly Modern Millie - Part 1
The River Part 1
Les Chaussons rouges 1/7 - une vidéo Art et Création
Strait Jacket - Movie Trailer
Stage Fright
Pourquoi ? Parce que James Cameron a tout simplement révolutionné les effets spéciaux grâce à l'utilisation de la 3D et de la motion capture dans Avatar. Un véritable choc visuel qui pallie sans problème un scénario basique proche de la légende de Pocahontas. L'avis d'une lectrice - Pascale : "Une musique formidable, des graphismes, notamment de paysages, somptueux, un monde d'une créativité merveilleuse... Le temps passe sans qu'on s'en aperçoive.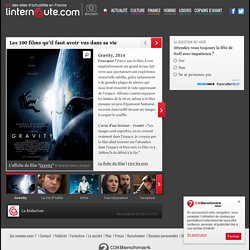 Metropolis 1927 - une vidéo Cinéma
Romy Schneider-L'enfer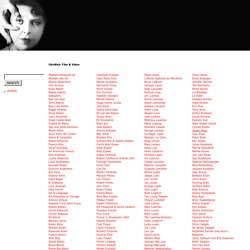 The following films are presented for educational and non-commercial use only. All copyrights belong to the artists. About UbuWeb Film & Video UbuWeb is pleased to present hundreds of avant-garde films & videos for your viewing pleasure. However, it is important to us that you realize that what you will see is in no way comparable to the experience of seeing these gems as they were intended to be seen: in a dark room, on a large screen, with a good sound system and, most importantly, with a roomful of warm, like-minded bodies. However, we realize that the real thing isn't very easy to get to.
Danse Serpentine Loie Fuller - un vídeo de Gente
La Fille Sur Le Pont Clip 02
Who's That Knocking At My Door (The End - The Doors) Martin Scorsese
Sfruttamento... ribasso... Riso Amaro
RSR.ch
"Chinatown", Roman Polanski, 1973. Pendant la grille des fêtes, le "Chinese Theatre" est diffusé tous les jours à midi et rediffusé à 19h. Tous les films sont projetés le soir même à la Cinémathèque suisse à Lausanne.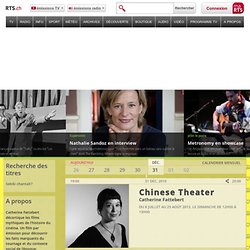 En 1980, marque l'histoire du cinéma avec son film . Michael Cimino est le réalisateur de trois œuvres marquantes, une sorte de trilogie de l'histoire américaine dans laquelle il explore le thème du combat. Il y a en 1978, un film sur la guerre du Vietnam pour lequel Cimino a reçu l'Oscar du meilleur réalisateur. Il y a en 1980, un western pas du goût de tout le monde, et en 1985 sur le nettoyage par la police de la pègre de Chinatown. 1980 marque un tournant.
RSR.ch