Étonnant
Marey Films (XII) body motions
Portraits/Visages
mood proekt
veryverybeautiful
16 luglio 2013 - Senza categoria Era il Settembre del 2008 e, ricordo come se fosse ora, me ne stavo seduta in pausa pranzo nel bel mezzo di un negozio che stavo restaurando. Era tanto che volevo scrivere, condividere in rete le mie "scoperte"… io che non facevo che salvare immagini su immagini che non sopportavo rimanessero a "prendere polvere" sul mio desktop.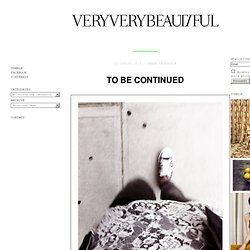 Bienvenue dans le Rêvoir - lu&nl
U.P // Year 1: Hello, Goodbye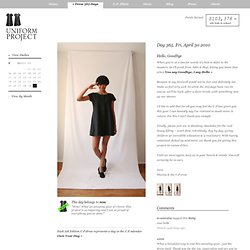 Hello, Goodbye When you're at a loss for words it's best to defer to the masters. So I'll pinch from John & Paul, letting you know that when You say Goodbye, I say Hello > Because to say farewell would not be fair and definitely not make us feel very well. So while the 365 days have run its course, we'll be back, after a short break, with something new up our sleeves.
Jen Gotch Photography
The Old Ladies Rebellion
This Wednesday is National Hat Day and we are having a party to celebrate. Don your favorite chapeau and please join us for an Advanced Style Hat Day Party. Wednesday, January 15, 2014 Wine and Snacks will be served from 5:00pm-8:00pm Off Broadway Boutique 139 W 72nd Street (between Columbus and Broadway) 212-724-6713 Hosted by: Ari Seth Cohen, "The Countess of Glamour", Joana Avillez Dress Code: Hats Required Price of Admission: Wear a Hat RSVP: advancedstyleinfo@gmail.com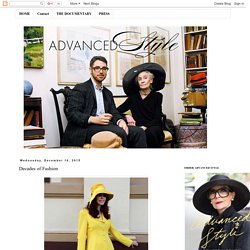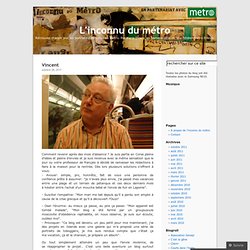 Cela ne vous a sans doute pas échappé, depuis quelques semaines, me voilà à l'affiche d'une campagne de pub pour le samsung NX11, l'appareil que j'utilise pour prendre mes photos (et oui c'est mon mauvais profil). Peu de temps après la naissance du blog, celui ci a connu le succès que vous savez et parmi les nombreuses propositions que j'ai eu, j'en ai choisi deux, celle ci, et la collaboration avec Métro. Au début, je prenais mes photos avec le NX10 de la même gamme, et depuis j'utilise le petit dernier et vu que je n'y connais absolument rien à la photo, je vous laisse juges de son efficacité, en tout cas moi il me convient bien. Ce qui m'a plu dans ce projet c'est le fait de participer à une autre plate forme de portraits que vous trouverez ici: parlez avec vos images. En plus il y a un ami du street art et de la norules qui fait parti du site, un jour un t-shirt et qui a acheté une jolie toile d'Eva Zé. Voilà, il fallait tout de même bien que je vous en parle depuis le temps !