News
Canada to pull out of Kyoto Protocol next month | CTV Calgary. Canada will announce next month that it will formally withdraw from the Kyoto Protocol, CTV News has learned.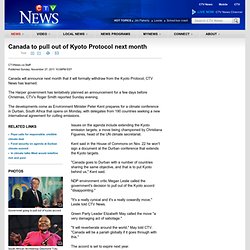 The Harper government has tentatively planned an announcement for a few days before Christmas, CTV's Roger Smith reported Sunday evening. The developments come as Environment Minister Peter Kent prepares for a climate conference in Durban, South Africa that opens on Monday, with delegates from 190 countries seeking a new international agreement for cutting emissions.
Présidentielle 2012 – L'élection du président français – Le Point. Home. Actualité à la Une. The New York Times - Breaking News, World News & Multimedia. Actualités. Journaux télévisés en vidéo - France 2.
---