News
Canada will announce next month that it will formally withdraw from the Kyoto Protocol, CTV News has learned. The Harper government has tentatively planned an announcement for a few days before Christmas, CTV's Roger Smith reported Sunday evening. The developments come as Environment Minister Peter Kent prepares for a climate conference in Durban, South Africa that opens on Monday, with delegates from 190 countries seeking a new international agreement for cutting emissions.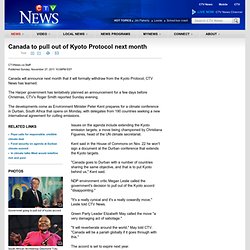 Canada to pull out of Kyoto Protocol next month | CTV Calgary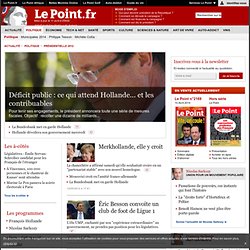 La chancelière a affirmé samedi qu'elle souhaitait croire en un "partenariat stable" avec son nouvel homologue. 45 12/05/2012 à 17:41 L'élu UMP, enchanté par son "expérience extraordinaire" au gouvernement, ne prendra pas position pour les législatives. 47 12/05/2012 à 18:46 Au nom du "rassemblement", le président élu devra sacrifier des "hollandais" de la première heure.
Présidentielle 2012 – L'élection du président français – Le Point
Huit candidats briguent la succession d'Hamid Karzaï lors d'un scrutin compromis par l'insécurité et la fraude. A Mantes-la-Ville, « ce n'est pas du racisme, mais du ras le bol » Dans cette commune de 20 000 habitants d'Ile-de-France, le conflit entre les deux candidats de gauche a permis au FN de l'emporter. afficher la suite des articles Cent députés PS en colère réclament un « contrat de majorité » Les parlementaires souhaitent que l'Assemblée soit davantage entendue et prônent une « réorientation » de l'Europe ainsi qu'un « choc de demande ».
François Sinzikiramuka, perpetrator (left); Christophe Karorero, survivor. Jean Pierre Karenzi, perpetrator (left); Viviane Nyiramana, survivor. Godefroid Mudaheranwa, perpetrator (left); Evasta Mukanyandwi, survivor. Juvenal Nzabamwita, perpetrator (right); Cansilde Kampundu, survivor. Deogratias Habyarimana, perpetrator (right); Cesarie Mukabutera, survivor. François Ntambara, perpetrator (left); Epiphanie Mukamusoni, survivor.