Data Visualization
Virtual Worlds Timeline. Sony launches PlayStation Home open beta Dec 11, 2008 Sony Computer Entertainment Inc.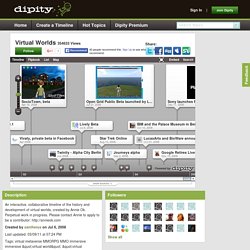 (SCE) today announced that its highly anticipated PlayStation®Home Beta service for PLAYSTATION® 3 (PS3™) will become available for all PS3 users around the world on December 11, 2008. Infographics & Data Visualizations. Welcome to Quid. Piktochart- Stories from Data. Your presentation/data visualization tool.
Digital Nostalgia on the Behance Network. Designing The News. Voyage - RSS feed reader. Newsmap. A visual exploration on mapping complex networks. WikiMindMap. The Opte Project. Here you will find static and dynamic 2D JPG/PNG images and 3D VRML maps of the Internet.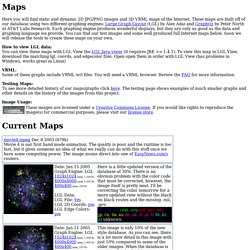 These maps are built off of our database using two different graphing engines: Large Graph Layout (LGL) by Alex Adai and Graphviz by Peter North at AT&T Labs Research. Each graphing engine produces wonderful displays, but they are only as good as the data and graphing language we provide. You can find our test images and some well produced full Internet maps below. Soon we will release the tools to create these maps on your own. How to view LGL data: You can view these maps with LGL View the LGL Java viwer (it requires JRE >= 1.4.1). Webpages as graphs - an HTML DOM Visualizer Applet.
Well-formed.eigenfactor.org : Visualizing information flow in science. Walrus - Gallery: Visualization & Navigation. Walrus - Gallery: Visualization & Navigation These screenshots and animations are simply intended to give a feel for what visualization and navigation in Walrus are like.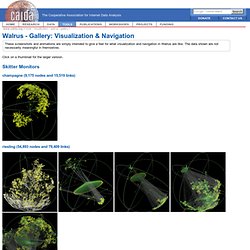 The data shown are not necessarily meaningful in themselves. Click on a thumbnail for the larger version. Skitter Monitors. We Feel Fine / Movements. Movements We Feel Fine is divided into six discrete movements, each illuminating a different aspect of the chosen population.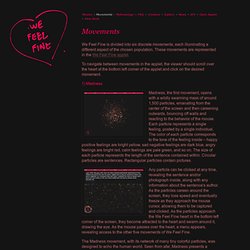 These movements are represented in the We Feel Fine applet.
---