VJ
VJyou official HP. Vj Micology (micology1) on Myspace. V Squared Labs. V Squared Labs. Antivj is a visual label. GrandVJ Content | ArKaos VJ/DJ. Software VJ. Vezér - Mac MIDI/OSC/DMX timeline and control software made for audiovisual artists and VJs. VJ. CoGe VJ software - The semi-modular, Quartz Composer capable VJ Software for Mac OSX. CoGe VJ software - The semi-modular, Quartz Composer capable VJ Software for Mac OSX.
Music Unfolding. xTrem is part of the Twister Series of Audio Unit effects. xTrem is a tremolo unit capable of a nice range of tremolo shapes.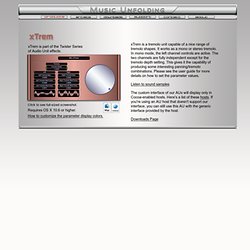 It works as a mono or stereo tremolo. In mono mode, the left channel controls are active. The two channels are fully independent except for the tremolo depth setting. Minuek | destroythingsbeautiful. VDMX5 · VIDVOX. Visuals for Sonar Festival + VDMX to Unity [Tutorials] - Creating a Sound Visualizer with #Unity3D by @miketucker. Numbers, a record label originating from Glasgow, had the opportunity to showcase artists at this year's Sonar Festival in Barcelona.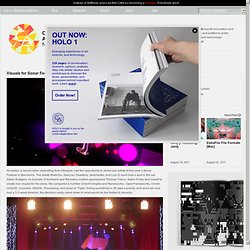 The artists Redinho, Spencer, Deadboy, Jackmaster, and Lory D each had a spot in the set. Adam Rodgers, co-founder of Numbers and Remote-Location approached Thomas Traum, Adam Finlay and myself to create live visuals for the show. We compared a number of technologies and frameworks– OpenFrameworks, Cinder, Unity3D, Cocos2d, WebGL, Processing, and good ol' Flash. Doing something in 3D was a priority, and since we only had a 2-3 week timeline, the decision really came down to what would be the fastest to develop. Despite my own lack of experience with the platform, Unity3D stood out as the clear choice. Acapellas | Packs de Descargas. Hoy les traigo un Remix Pack, con todas las partes separadas de la pista de Spinnin' Records: R3hab & NERVO & Ummet Ozcan – Revolution.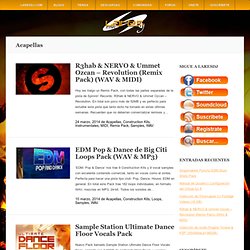 En total son poco más de 52MB y es perfecto para estudiar esta pista que tanto éxito ha tomado en estas últimas semanas. Recuerden que no deberían comercializar remixes y… 'EDM: Pop & Dance' nos trae 9 Construction Kits y 9 vocal samples con excelente contenido comercial, tanto en voces como el sintes. F a b r i z i o p o c e | J u n e 7 4.
The J74 ISO Controllers package allows you to turn the popular APC40 (original edition) and Launchpad (standard Launchpad, Launchpad-s, Launchpad-mini) into multi-template isomorphic controllers.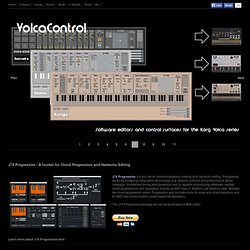 By re-assigning notes to the pads and using colors to give essential and intuitive information about the harmonic characteristics, the layouts turn both controllers in easy to play instruments for harmony and melody. The package provides you with both standalone applications (for MAC and Windows for use with any DAW software) as well as Ableton Live Max for Live format. Visual Performance Tutorial: How to Sync Audio + Video Using Ableton Live and VDMX. In this video tutorial, Dubspot course designers Benton-C Bainbridge and V Owen Bush take us inside Vidvox's VDMX software–the application at the center of our new Visual Performance Program–and offer a glimpse at some of the concepts and techniques that will be explored in the course.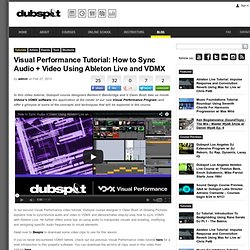 In our second Visual Performance video tutorial, Dubspot course designer V Owen Bush of Glowing Pictures explains how to synchronize audio and video in VDMX and demonstrates step-by-step how to sync VDMX with Ableton Live. He further offers some tips on using audio to manipulate visuals and isolating, modifying, and assigning specific audio frequencies to visual elements.
Head over to Beeple to download some video clips to use for this lesson. If you've never encountered VDMX before, check out our previous Visual Performance video tutorial here for a brief introduction to this powerful software. You can download the archive of clips used in this video from Vidvox here. Www.maxforlive.com - Download Max for Live Devices. Millumin. Vjvault.com. Sign Up | Log In | Help Free Loops & Clips for VJ's and Visual Artists Most Recent| Most Viewed| Most Downloaded| Most Discussed| Top Favorites| Top Rated| Recently Featured| Random Watch Videos.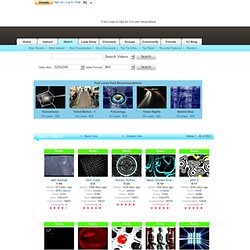 .: Vj Kar :. free video loop for Vjing. Quite Nice Visuals. Online resource links Check out our videos on YouTube and connect with us at our MySpace Facebook Twitter or LinkedIn if you'd like to do some networking. vj resources - community.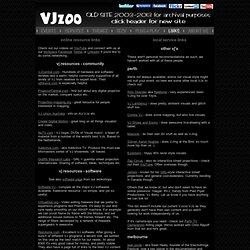 Free VJ Loops- Classic Editions : VJ Loops. <div style="padding:5px; font-size:80%; width:300px; background-color:white; margin-left:auto; margin-right:auto; border:1px dashed gray;"> Internet Archive's<!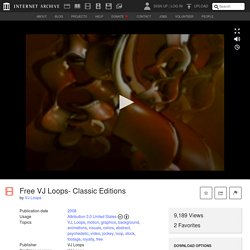 --'--> in-browser video player requires JavaScript to be enabled. It appears your browser does not have it turned on. Please see your browser settings for this feature. </div> VJ Software. Projection Mapping Made Easy, with Free Mac-Windows Projection Tools. Projection tools in the wild: relief projection lab at Bit Teatergarasjen; photo (CC) hc gilje.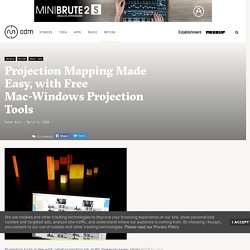 Projection mapping has been a running theme here, as visualists are dying to get their projections onto objects other than flat walls. If you're ready to experiment and develop new material but have been intimidated by figuring out how to properly calibrate your projections, videoprojection tools is for you. This free Mac/Windows tool built in helps align videos with objects. It was built in Max/MSP/Jitter but runs whether or not you own Max thanks to the included runtime. Resolume VJ Software - Live Digital Motion Graphics. Sylvain J. Stoppani. VJ Software Listings. VJ Visual Jockey Software Comparison. Processing.org. 10 Best Software for Visual Performance Artist.
10 Best Software for Visual Performance Artist The task of selecting software for live audio-visual performances can become overwhelming, given the wide variety of solutions that are available.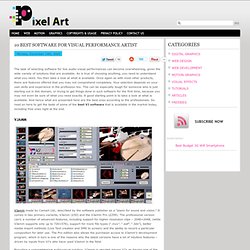 As is true of choosing anything, you need to understand what you need. Immersive. Vvvv - a multipurpose toolkit.
---