VJ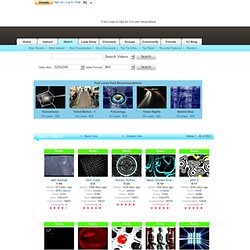 Sign Up | Log In | Help Free Loops & Clips for VJ's and Visual Artists Most Recent| Most Viewed| Most Downloaded| Most Discussed| Top Favorites| Top Rated| Recently Featured| Random Watch Videos
vjvault.com
.: Vj Kar :. free video loop for Vjing
Quite Nice Visuals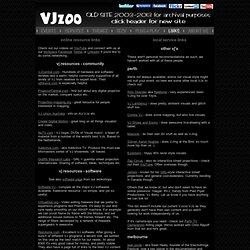 online resource links Check out our videos on YouTube and connect with us at our MySpace Facebook Twitter or LinkedIn if you'd like to do some networking. vj resources - community
Free VJ Loops- Classic Editions : VJ Loops
<div style="padding:5px; font-size:80%; width:300px; background-color:white; margin-left:auto; margin-right:auto; border:1px dashed gray;"> Internet Archive's<!--'--> in-browser video player requires JavaScript to be enabled. It appears your browser does not have it turned on. Please see your browser settings for this feature. </div>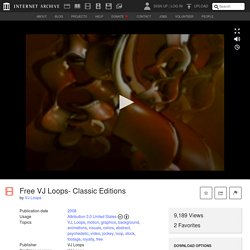 Projection tools in the wild: relief projection lab at Bit Teatergarasjen; photo (CC) hc gilje. Projection mapping has been a running theme here, as visualists are dying to get their projections onto objects other than flat walls. If you're ready to experiment and develop new material but have been intimidated by figuring out how to properly calibrate your projections, videoprojection tools is for you. This free Mac/Windows tool built in helps align videos with objects. It was built in Max/MSP/Jitter but runs whether or not you own Max thanks to the included runtime.
Projection Mapping Made Easy, with Free Mac-Windows Projection Tools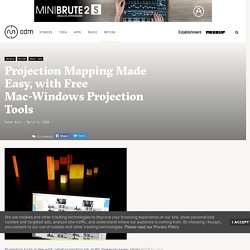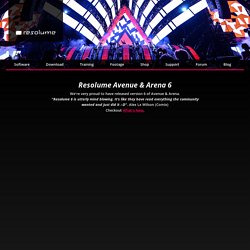 Avenue 4 is an instrument for VJs, AV performers and video artists. It puts all your media and effects right at your fingertips so you can quickly improvise your live visuals. Watch Video ➜
Sylvain J. Stoppani
VJ Visual Jockey Software Comparison
Download ProcessingPlay With ExamplesBrowse Tutorials Processing is a programming language, development environment, and online community. Since 2001, Processing has promoted software literacy within the visual arts and visual literacy within technology. Initially created to serve as a software sketchbook and to teach computer programming fundamentals within a visual context, Processing evolved into a development tool for professionals. Today, there are tens of thousands of students, artists, designers, researchers, and hobbyists who use Processing for learning, prototyping, and production. » Free to download and open source » Interactive programs with 2D, 3D or PDF output » OpenGL integration for accelerated 3D » For GNU/Linux, Mac OS X, and Windows » Over 100 libraries extend the core software » Well documented, with many books available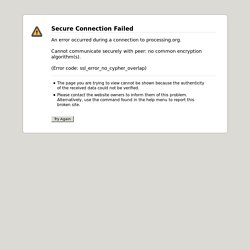 10 Best Software for Visual Performance Artist The task of selecting software for live audio-visual performances can become overwhelming, given the wide variety of solutions that are available. As is true of choosing anything, you need to understand what you need.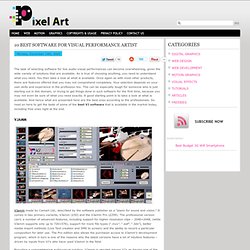 immersive