Arts
Weekly newspaper columns - NOW AVAILABLE in books. Across the Fence is a weekly newspaper column written by Howard Sherpe that runs in several papers in Wisconsin, Iowa, and Minnesota. A genealogical tracking that dates back to before 1000 A.D., this family tree is well-traveled and researched journey, part of a comprehensive search for our familial roots in Norway. The research traces the ancestors and descendants of the first of my ancestors to arrive in America from Norway. Those families include: Sherpe (Skjerpe), Ostrem (Østrem), Tomtengen, Tomten Wang (Vang), and Hanson (Rustad).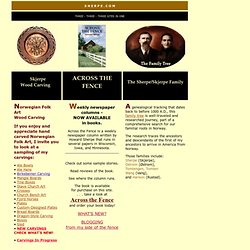 SHERPE.COM
Gallery
Abebooks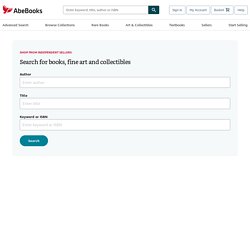 Often complete with heartfelt stories and vibrant photography, today's cookbooks have evolved into carefully curated works of art, full of recipes for modern lifestyles. Join us on a culinary tour led by world-famous chefs, award-winning restaurateurs, and acclaimed food writers. ›Learn more Browse for Books
alicublog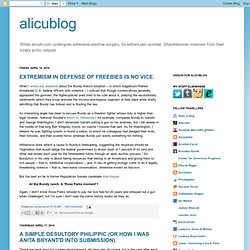 How're conservatives reacting to Chris Christie Is An Asshole-gate? James Taranto at the Wall Street Journal: Worse, the Christie administration's evident abuse of the Port Authority is reminiscent of the Obama administration's abuse of the Internal Revenue Service... I already checked, guys -- no mention of Benghazi. For that you have to go a few rungs down the ladder to Greta Van Susteren, or to the sub-basement that is Michelle Malkin's alternate-universe Twitter. Or maybe Breitbart.com -- hang on, this article by Joel B.
The Mushroom House
HamiltonBook.com
Autodidactic Press is dedicated to two propositions: That lifelong learning is fundamental to living a full and interesting life. That the learning necessary to gain competence in a job or career is far, far more important than how or where it is acquired. Self-education is the essence of genuine learning.
AUTODIDACTIC PRESS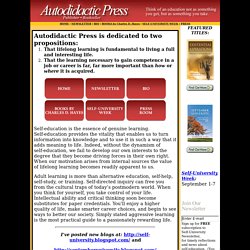 No Starch Press Home Page
The Crossing Press Store
Amazon.com