Music
Ólöf Arnalds - With Tomorrow / I'm On Fire by One Little Indian Records on SoundCloud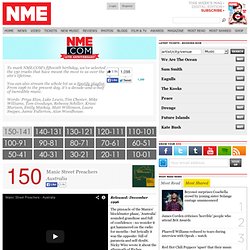 Released: August 2007 They're not normally noted for their emotionalism, Crystal Castles, so much as for their shrieking, bleeping, sulking and bottling. Compare, though, the original track on HEALTH's debut album with Ethan Kath's reworked version and it's amazing how it subtly smoothes a jagged, brutalist and tortured thing into a melancholy, gently blooping and squelching, 8-bit mooch of some beauty, bringing the soft fear in...
TOP 150
Top 40 meet indie
Jonk Music: Best Songs of the 2000s: Part 1
ChancesWithWolves.com
AMERICA'S well-documented independent music scene once valued tour-van mileage, lean living, anti-commercialism and a layer of sonic inscrutability. The DIY work ethic of the 1980s and '90s meant everything from booking your own gigs to pressing your own debut single, if necessary. Would-be scribes wrote criticism in Xeroxed zines, published in copy shops. It was more concerned with a grassroots revolution in sound than SoundScan figures—the pre-internet gauge of sales.
Indie-music publishing: The Lana Del Rey affair