Bibliographic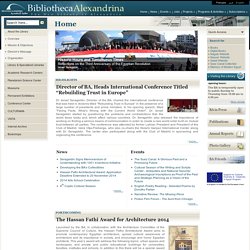 The BA Receives the Collection of the Royal Tropical Institute, the Netherlands Dr. Ismail Serageldin; Director of the Library of Alexandria, and Dr. Derk Vermeer; President of the Royal Tropical Institute— Koninklijk Instituut voor de Tropen (KIT) in Amsterdam, the Netherlands, have signed on Thursday, 31 October 2013, a Memorandum of Understanding between the two institutions by which majority of the KIT library collection, almost 400,000 books and 20,000 journals, will be reallocated at the BA.
Dag Hammarskjöld Library - Homepage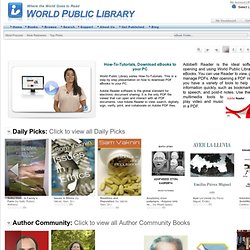 World Public Library - Public Access Section
World Public Library The World Public Library Collection shelves more than 3,000,000+ PDF eBooks in 100+ languages, containing 125 of the finest eBook and eDocument collections published on the Internet today. All of the eBooks are in PDF file format, and all Audio eBooks are in MP3 file format. These formats have been specially designed to be cross-platform compatible with all PCs, Laptops, PDAs, Kindle DX, Kindle 3 iPad/iPods, eReaders, and Smartphones. The World Public Library is a non-profit literacy association.