Names
We close out the naming year by recognizing the 2013 Name of the Year: Francis. As Time Magazine wrote when they declared Pope Francis their Person of the Year: "This papacy begins with a name." On the day Cardinal Jorge Bergoglio of Argentina was elected pope, one observer responded to his choice of name: "(E)arly reaction is that the new pope has managed to send two very different messages at once.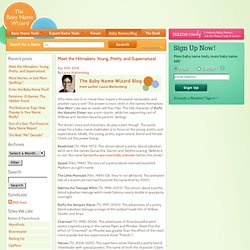 Baby Names Blog: Blog of Baby Name Wizard author Laura Wattenber
RRQ - Banque de prénoms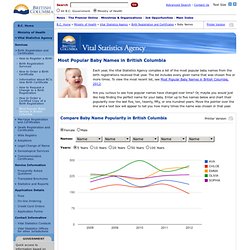 Each year, the Vital Statistics Agency compiles a list of the most popular baby names from the birth registrations received that year. The list includes every given name that was chosen five or more times. To view the most recent list, see Most Popular Baby Names in British Columbia, 2012. Are you curious to see how popular names have changed over time?
Vital Statistics Agency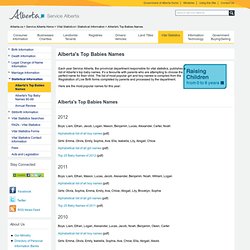 Boys: Liam, Ethan, Jacob, Logan, Mason, Benjamin, Lucas, Alexander, Carter, Noah Alphabetical list of all boy names (pdf) Girls: Emma, Olivia, Emily, Sophia, Ava, Ella, Isabella, Lily, Abigail, Chloe Boys: Liam, Ethan, Mason, Lucas, Jacob, Alexander, Benjamin, Noah, William, Logan
Service Alberta: Alberta's Top Babies Names
You are exiting the Social Security Administration's website. Select OK to proceed. Disclaimer The Social Security Administration (SSA) website contains links to websites not affiliated with the United States government. These may include State and Local governmental agencies, international agencies, and private entities.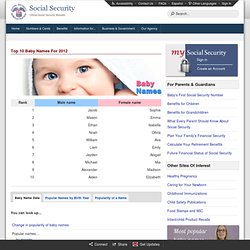 Most Popular Baby Names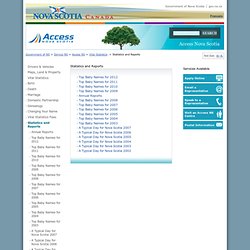 Skip to Content Skip to Search Skip to Navigation Government of Nova Scotiagov.ns.ca gov.ns.caGovernment of Nova Scotia Nova Scotia, Canada
Statistics and Reports | Access Nova Scotia | Government of Nova