Names
Baby Names Blog: Blog of Baby Name Wizard author Laura Wattenber. Why does one tv or movie hero inspire a thousand namesakes, and another nary a one?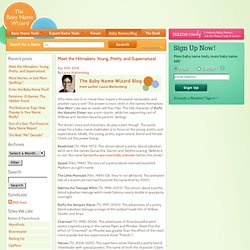 The answer is most often in the names themselves. Star Wars' Luke was an easier sell than Han. The title character of Buffy the Vampire Slayer was a non-starter, while her supporting cast of Willows and Xanders became parents' darlings. The show's story and characters, do play a part, though. The Etymology and History of First Names. Banque de prénoms. Vital Statistics Agency. Each year, the Vital Statistics Agency compiles a list of the most popular baby names from the birth registrations received that year.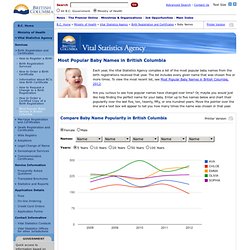 The list includes every given name that was chosen five or more times. To view the most recent list, see Most Popular Baby Names in British Columbia, 2012. Are you curious to see how popular names have changed over time? Service Alberta: Alberta's Top Babies Names. Boys: Liam, Ethan, Jacob, Logan, Mason, Benjamin, Lucas, Alexander, Carter, Noah Alphabetical list of all boy names (pdf) Girls: Emma, Olivia, Emily, Sophia, Ava, Ella, Isabella, Lily, Abigail, Chloe Boys: Liam, Ethan, Mason, Lucas, Jacob, Alexander, Benjamin, Noah, William, Logan.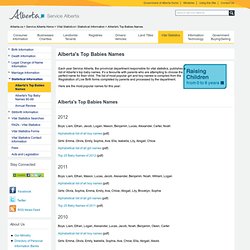 Popular baby names. You are exiting the Social Security Administration's website.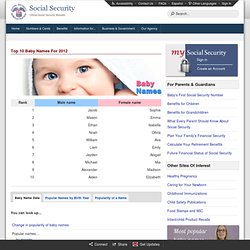 Select OK to proceed. Disclaimer The Social Security Administration (SSA) website contains links to websites not affiliated with the United States government. These may include State and Local governmental agencies, international agencies, and private entities. Most Popular Baby Names. Statistics and Reports | Access Nova Scotia | Government of Nova. Skip to Content Skip to Search Skip to Navigation Government of Nova Scotiagov.ns.ca gov.ns.caGovernment of Nova Scotia Nova Scotia, Canada.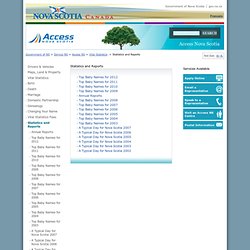 ---