Names
As I write this, a papal conclave in Rome is charged with the profound duty of naming a new pope. And once they do name him, he will have to name himself. For more than 1000 years, newly elected popes have adopted a regnal name to represent their papacy. In one sense, this is the most tradition-bound of naming decisions. The name must be a deep and pure reflection of Catholic history and values.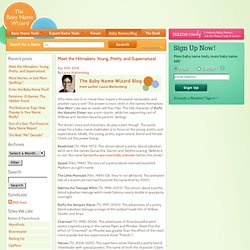 Baby Names Blog: Blog of Baby Name Wizard author Laura Wattenber
RRQ - Banque de prénoms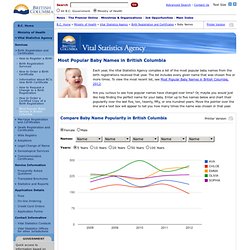 Each year, the Vital Statistics Agency compiles a list of the most popular baby names from the birth registrations received that year. The list includes every given name that was chosen five or more times. To view the most recent list, see Most Popular Baby Names in British Columbia, 2012 . Are you curious to see how popular names have changed over time?
Vital Statistics Agency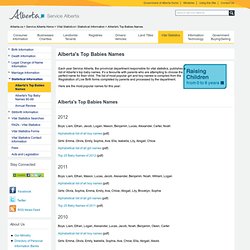 Boys: Liam, Ethan, Mason, Lucas, Jacob, Alexander, Benjamin, Noah, William, Logan Alphabetical list of all boy names (pdf) Girls: Olivia, Sophia, Emma, Emily, Ava, Chloe, Abigail, Lily, Brooklyn, Sophie Boys: Liam, Ethan, Logan, Alexander, Lucas, Jacob, Noah, Benjamin, Owen, Carter
Service Alberta: Alberta's Top Babies Names
Popular baby names
Most Popular Baby Names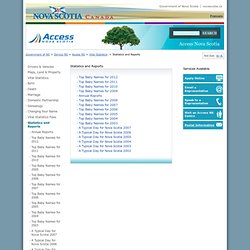 Skip to Content Skip to Search Skip to Navigation Government of Nova Scotia gov.ns.ca gov.ns.ca Government of Nova Scotia Nova Scotia, Canada
Statistics and Reports | Access Nova Scotia | Government of Nova
General Register Office for Scotland - Publications and Data - P
National Statistics Online - Product - Baby Names