1.5.3 Science Books
Get flash to fully experience Pearltrees
The BUPMC preserves in its section Biologie Recherche the library constituted by Alfred Giard (1846-1908), French zoologist who contributed to the dissemination of the idea of the evolution of species in France.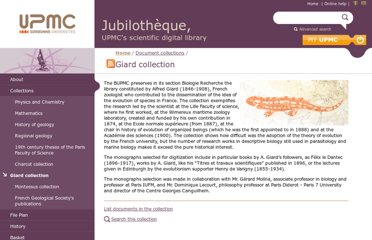 Know more about Euler, Leonhard (French)
Established 1996 — the longest-running and largest open access repository in mathematics
Available soon: Series: AcTa Arithmetica; v. 57 (1991) Annales Polonici Mathematici; v. 12 (1962) - v. 75 (2000) Applicationes Mathematicae; v. 1 (1953) - v. 21 (1994) Banach Center Publications; v. 12 (1984) - v. 37 (1996), v. 49 (1999) - v. 53 (2000) Colloquium Mathematicum; v. 13 (1964) - v. 61 (1990) Rozprawy Matematyczne; v. 11 (1956) - v. 316(1992), v. 323 (1993) - v. 385 (2000)
Des livres scientifiques anciens à découvrir en ligne Scientifica vous propose de consulter en ligne, des ouvrages en langue française édités entre la fin du 18ème et le début du 20ème siècle, provenant des fonds scientifiques anciens de la Bibliothèque des sciences et de l'industrie (BSI). Scientifica s'adresse à tous, petits et grands, aux publics amateurs, curieux de sciences, ou intéressés par l'histoire en général, aux enseignants et chercheurs en histoire des sciences travaillant sur des textes anciens.