Social Media
40 New and Trendy Free Social Media Bookmark Icon Sets. Resources February 25, 2010 Social Media Bookmark Icons serve as significant design touches in websites and blogs.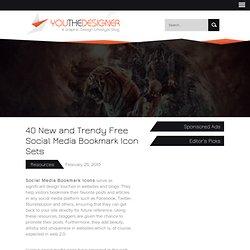 They help visitors bookmark their favorite posts and articles in any social media platform such as Facebook, Twitter, StumbleUpon and others, ensuring that they can get back to your site directly for future reference. Using these resources, bloggers are given the chance to promote their posts. Furthermore, they add beauty, artistry and uniqueness in websites-which is, of course, expected in web 2.0. Various social media icons have emerged in the web for promotional purposes. Social Marketing Blog / @flowtown. This post was written by Jenny Urbano, our Social Media Manager.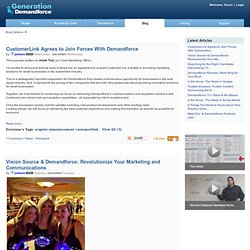 Here at Demandforce, we love seeing and celebrating your ideas! And more than that, we love to hear from YOU. We want to bridge the gap between us and you, so that's why we're offering a once in a lifetime opportunity to win a trip to San Francisco, sightsee in this amazing city, visit Demandforce headquarters and share your ideas with us! 6 winners, and a guest of their choice will be flown out to San Francisco, California on March 12-14th, 2014, where they will stay in Union Square, spend a day at Demandforce, have dinner with the team, and explore the lovely City by the Bay!
For contest rules, and how to enter, please visit our post in the Generation Demandforce Community here. NodeXL: Network Overview, Discovery and Exploration for Excel - Home. 10 Alternatives To Delicious.com Bookmarking. It looks like your (and my) personal search engine of interesting web pages is about to go away.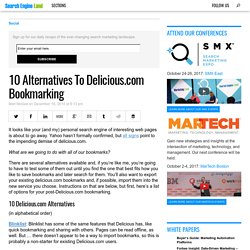 Yahoo hasn't formally confirmed, but all signs point to the impending demise of delicious.com. What are we going to do with all of our bookmarks? There are several alternatives available and, if you're like me, you're going to have to test some of them out until you find the one that best fits how you like to save bookmarks and later search for them. You'll also want to export your existing delicious.com bookmarks and, if possible, import them into the new service you choose. 100 Personal Branding Tactics Using Social Media. You are not special.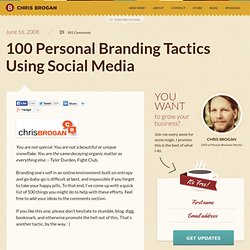 You are not a beautiful or unique snowflake. You are the same decaying organic matter as everything else. – Tyler Durden, Fight Club. Branding one's self in an online environment built on entropy and go-baby-go is difficult at best, and impossible if you forget to take your happy pills. Online Reputation Management and Social Media Monitoring. TweetGrid - by jazzychad. Real Time Search - Social Mention.
Competitious. Fortune 500 Business Blogging Wiki / Fortune 500 Business Bloggi. Free Press Release Distribution Service - PRLog. Press Release Service and Distribution - 24-7PressRelease.com. Retaggr - your online presence everywhere. Social media trends to watch for 2011. Just like you, I get hordes of messaging on social media.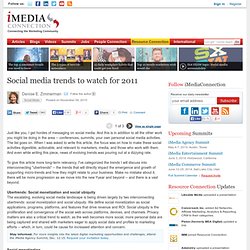 And this is in addition to all the other work you might be doing in the area -- conferences, summits, your own personal social media activities. The list goes on. When I was asked to write this article, the focus was on how to make these social activities digestible, actionable, and relevant to marketers, media, and those who work with them. Social Media Report. Social media is coming of age.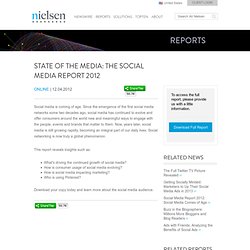 Since the emergence of the first social media networks some two decades ago, social media has continued to evolve and offer consumers around the world new and meaningful ways to engage with the people, events and brands that matter to them. Now, years later, social media is still growing rapidly, becoming an integral part of our daily lives. Social networking is now truly a global phenomenon. Coco search. Fast resut search engine worldwide advertise your business in fast result search engine below.
Traffic Ad Bar. Social Networking Watch.
---