Social Media
52 Cool Facts About Social Media. 13.5K Shares 13.5K Shares × As social media continues to gain acceptance as a bona-fide communications platform, I thought it might be fun to have a cool fact about it for every week of the year.
So, here are ten facts about the five most well-known social media outlets – Facebook, Twitter, LinkedIn, YouTube and blogging – with two more bonus facts thrown in just for fun. QR-Code Generator.
15 Frequently Asked Questions About Facebook Pages. Facebook provides a comprehensive Help Center with its own range of FAQs along with helpful content from a vast number of users.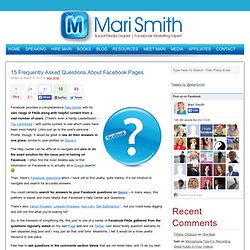 [There's even a handy Leaderboard - Top Contributor - with points system to see which users have been most helpful. Links just go to the user's personal Profile, though. It would be great to see all their answers in one place, similar to user profiles on Quora.] The Help Center can be difficult to navigate and zero in on the exact solution for the issue you're having on Facebook. I often find the most reliable way to find information on Facebook is to actually do a Google search! 20 Awesome Facebook Fan Pages. Facebook is a key online marketing tool for businesses-;if utilized to its fullest it can drive increased traffic to your website, generate additional sales, promote brand recognition and loyalty, and provide you with a direct communication link to your clients and customers.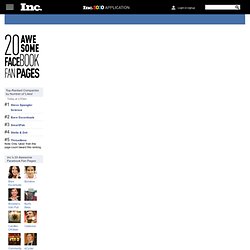 Here's 20 companies-;chosen from nominations by entrepreneurs, social media experts, Inc. editors, and Facebook-;that we think have awesome fan pages. Vote for your favorites by clicking the "Like" button on this page. Bare Escentuals Minimalist is the answer for Bare Escentuals. Fans completely drive the conversation on wall updates, discussion boards and pictures.
Hootsuite Was Down: 5 other Tools to Schedule Your Tweets. With Hootsuite being down I saw myself and lots of other people in dire need to continue scheduling tweets.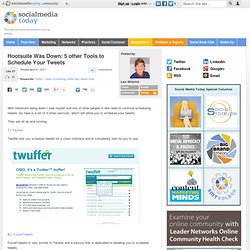 So here is a list of 5 other services, which will allow you to schedule your tweets. They are all up and running. 1.) Twuffer Twuffer lets you schedule tweets on a clean interface and is completely free for you to use. To Twitter (7) Five Ideas for Executing a Rockstar Social Media Plan. You have a great product or service and you want to share it with the world.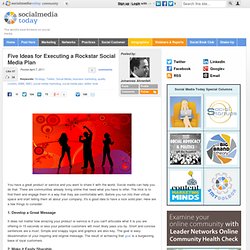 Social media can help you do that. There are communities already living online that need what you have to offer. 9 Companies Doing Social Media Right and Why. Is your business experiencing the social media success you had hoped for?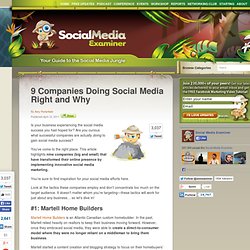 Are you curious what successful companies are actually doing to gain social media success? You've come to the right place. This article highlights nine companies (big and small) that have transformed their online presence by implementing innovative social media marketing. You're sure to find inspiration for your social media efforts here. Look at the tactics these companies employ and don't concentrate too much on the target audience. 5 Easy Steps to a Winning Social Media Plan. So you've set up your social media empire using Twitter, Facebook, LinkedIn, and you're blogging too.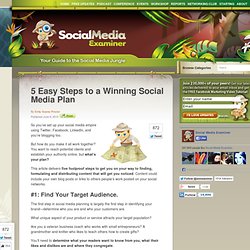 But how do you make it all work together? You want to reach potential clients and establish your authority online, but what's your plan? This article delivers five foolproof steps to get you on your way to finding, formulating and distributing content that will get you noticed. Content could include your own blog posts or links to others people's work posted on your social networks. Downloads. How To Build Your Facebook Landing Page (If You're Not A Programmer) | SocialMouths. Update: As you know Facebook no longer supports FBML for its tabs, which is what this post was based on, but there is an updated post about How to build a Facebook Landing Page with iFrames – Don't miss it!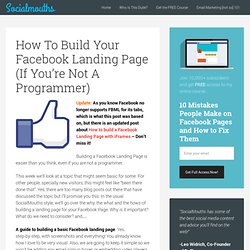 Building a Facebook Landing Page is easier than you think, even if you are not a programmer. This week we'll look at a topic that might seem basic for some. 10 Reasons Your Facebook Page Is Not Taking Off | SocialMouths. Why isn't my Facebook Page growing faster?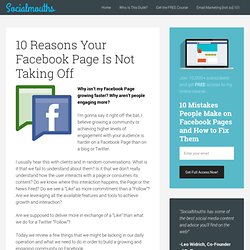 Why aren't people engaging more? I'm gonna say it right off the bat, I believe growing a community or achieving higher levels of engagement with your audience is harder on a Facebook Page than on a blog or Twitter. I usually hear this with clients and in random conversations. What is it that we fail to understand about them? 23 Social Media Facts to Share with Executives. Thanks for stopping by!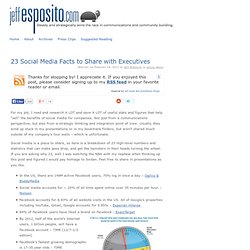 I appreciate it. If you enjoyed this post, please consider signing up to my RSS feed in your favorite reader or email. For my job, I read and research A LOT and save A LOT of useful stats and figures that help "sell" the benefits of social media for companies. Not just from a communications perspective, but also from a strategic thinking and integration point of view. Usually they wind up stuck in my presentations or in my bookmark folders, but aren't shared much outside of my company's four walls – which is unfortunate. Top 10 Ways to Drive Traffic to Your Blog Using LinkedIn. Cracking the Code of Internet MarketingSocial Media Science: The Five W's of Twitter Marketing » Cracking the Code of Internet Marketing.
If you're doing any kind of Internet marketing you know the importance of fact gathering especially if you're just starting out investing time, money and resources in social media. We're now well into the "early majority" phase of social media, it's time to take a look at some interesting data for a peak behind the social media curtains. When strategizing your marketing campaign it's critical to give yourself the highest chance of success. How much does Social Media cost companies in 2011? | MackCollier.com. UPDATE: If you would like to view my Social Media Consulting Rate Sheet to see what I charge for my services, please click here. Click here to get the 2012 Price Update to this post. Last February I wrote a post about the prices companies could expect to pay for basic social media services. What the Hashtag?! - the user-editable encyclopedia for Twitter hashtags.
Top 15 New Social Media Apps of 2010. By Jason Keath on Jan 04, 2011 Social media is fast becoming an ecosystem of mobile and web apps. From business and enterprise tools to social games to personal and service based apps. When you think back to a year filled with social media dashboards, location apps, monitoring tools and photo sharing, which app was your favorite?
---