Website resources
The Front End Post » Tutorials
css gallery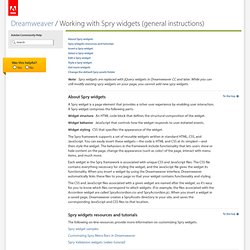 Spry widget is a page element that provides a richer user experience by enabling user interaction. A Spry widget comprises the following parts: Widget structure An HTML code block that defines the structural composition of the widget.
Working with Spry widgets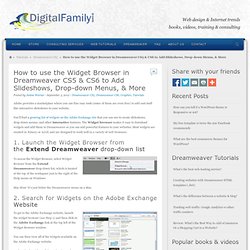 Widget Browser Adobe Dreamweaver CS5, CS4, and CS3 Free Tutorials and Training videos
Adobe provides a marketplace where you can fine easy tools (some of them are even free) to add cool stuff like interactive slideshows to your website. You'll find a growing list of widgets on the Adobe Exchange site that you can use to create slideshows, drop-down menus, and other Interactive features. The Widget browser makes it easy to download widgets and add them to Dreamweaver so you can add powerful features to your websites. Most widgets are created in JQuery or AJAX and are designed to work well in a variety of web browsers.
The Adobe Widget Browser is an Adobe AIR application that lets you preview and configure widgets using a visual interface. The Widget Browser solves the problem of having to work with confusing or obscure CSS and JavaScript by providing designers with a tool for editing widget properties to suit their needs. With the Widget Browser, you can: Preview and download all of the OpenAjax widgets available on the Adobe Exchange Add widgets to Dreamweaver so that you can easily insert them in your web pages Export and package widgets for use in any other HTML editing tool The Widget Browser also offers widget developers the ability to make their widgets available to a wider audience.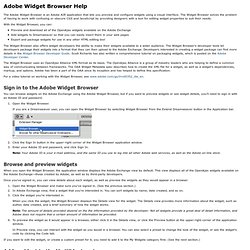 Adobe Widgets
June 23rd, 2011 by aditia rahman / 6 Comments Web navigation is one of the most important part in web design, it make easier for visitor to explore quickly what the site about. In today post I have collected some examples of web navigation menu that can be applied in web design project, might be useful for you get some references before designing a mockup navigation layout. Pixel Navigation
40 Free Web Menu Navigation PSD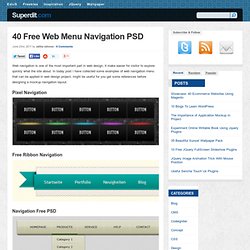 Colorful Dropline Menu Pack | Design3edge
Stock Flash Components, Web Templates, Banner Rotators