Specific Recipes
Connie's Zucchini "Crab" Cakes Recipe. Lamb and Cabbage Stew with Fresh Shell Beans Recipe at Epicurious. Yield Makes 6 to 8 servings This North African-inspired stew is lighter than traditional stews because there's less meat and more vegetables.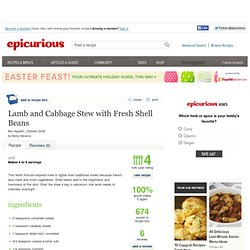 Shell beans add to the brightness and freshness of the dish. Start the stew a day in advance—the lamb needs to marinate overnight. Preparation Heat small skillet over medium-high heat. Sweet Potato Parsnip Latkes with Feta and Leeks recipe from Food52. Author Notes: I was recently working on an article extolling the virtues of the classic potato latke, and wanted to contrast its perfect simplicity with some ridiculously nouveau-whatever variation.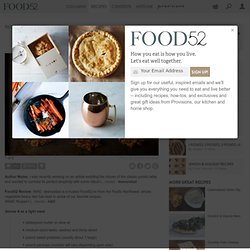 So I wrote that stripped-down basic recipes, with care paid to technique, can hold their own against the frou-frou trimmings of a latke with say... caramelized leeks, hashed parsnips, feta and sweet potatoes. And then I looked at what I wrote. Challenge accepted! No, they're not my grandma's latkes. How to cook the perfect aubergine parmigiana. Aubergine parmigiana (aka melanzane alla parmigiana, or parmesan aubergine, for the sake of linguistic consistency) is that rare and glorious thing: Mediterranean stodge.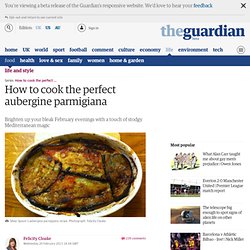 Despite the oft-repeated assumption that it is, as Jamie Oliver puts it, "a classic northern Italian recipe", parmigiana probably, as Jane Grigson observes in her masterful Vegetable Book, hails from the south, where it is popular fare in the rosticcerias, or roast-meat shops, of Naples and the surrounding area. True, it's almost certainly named for the northern cheese, but the aubergines, the tomatoes, and the mozzarella are all traditionally southern ingredients – perhaps the very fact the parmesan is singled out for mention suggests its exoticism.
Pickled Beets For Canning) Recipe - Food.com - 177650. Sweet and Spicy Pickles Recipe : Emeril Lagasse. Directions Place cucumbers, onions, pickling salt, and water in a large, non-reactive bowl.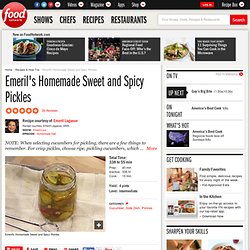 Cover and allow cucumbers to soak for 2 hours. How to make fish stock. I have a confession to make -- I hate making stocks.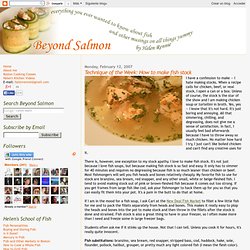 When a recipe calls for chicken, beef, or veal stock, I open a can or a box. Unless of course, the stock is the star of the show and I am making chicken soup or tortellini in broth. Yes, yes -- I know that it's not hard.
Baking. Breakfast Ideas. MEATY delights. Vegetarian. Soups! Endless Pesto Possibilities cooking with herbs and spices. By Sandra Bowens While working as a waitress at a fine dining establishment, one of my dinner guests asked what pesto was.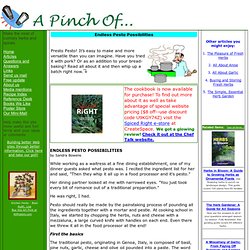 I recited the ingredient list for her and said, "Then they whip it all up in a food processor and it's pesto. " Her dining partner looked at me with narrowed eyes. Hands-On Granola « Miss Kathryn's. At Miss Kathryn's summer day camp, this easy recipe is the daily morning snack.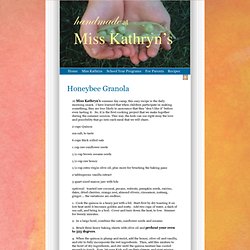 I have learned that when children participate in making something, they are less likely to announce that they "don't like it" before even tasting it. So, it is the first cooking project that we make together during the summer session. This way, the kids can see right away the love and possibility that go into each meal that we will share. From Pierogies To Paprikash: 11 Eastern European Recipes. Five Ways to Eat Persimmons | Food & Think.
The first time I tried a persimmon was a few years ago.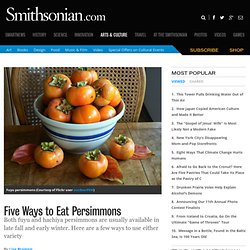 I spotted the attractive fruit at the supermarket, and its smooth skin and deep orange color tempted me to buy one. Unfortunately, I didn't know that the variety of persimmon I bought—hachiya—shouldn't be eaten until it is extremely ripe. It tasted like industrial-strength cleaner. Rainbow Chopped Salad Recipe at Epicurious. Photo by Kiyoshi Togashi yield 8 servings active time 30 minutes total time 30 minutes.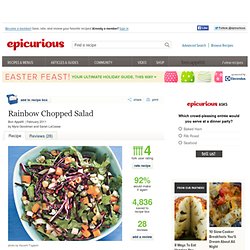 Petite Lasagnas « Can You Stay for Dinner? Recipe slightly adapted from Hungry Girl (makes 12) 12 oz raw ground turkey ¼ tsp salt, divided.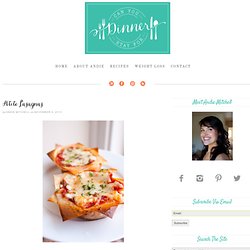 Aphrodisiac Cream of Sage, Rosemary and Thyme Holiday Soup (Raw & Vegan) This delicious and aromatic cream of sage, rosemary and thyme soup is loaded with mood-lifting, libido-enhancing, nervous system nourishing superfoods so as to pleasure your holiday fancy with a partner and keep you both feeling grounded and energized. Your nervous system from your brain to the sensors of your skin will come alive as the coconut oil combined with the minerals in the sea vegetables soothes your receptor sites making you feel at ease and home for the holidays from the inside out. This is also one of the few savory recipes today that contains the renowned hormone-modulating maca. Serves 2 on the lighter side: Feel free to double the recipe. Aphrodisiac Cream of Sage, Rosemary and Thyme soup garnished with a sprinkle of Coconut Aminos and a pinch of parsley.
How to Make Blueberry Butter - Easily! With Step-by-step Photos, Ingredients, Recipe and Costs. How to Make Homemade Blueberry Butter - Easily! With Step-by-step Photos, Recipe, Directions, Ingredients and Costs This month's notes: April 2014: Spring is just around the corner. Strawberries are here in Florida, Texas and California, next in late March and April for much of the South, then in May for most of the country and June in cooler northern areas. See how easy it is to make strawberry jam or strawberry-rhubarb jam!
---