Personal Finance
5 Ways Rich People Think Differently LearnVest. This post originally appeared on DailyFinance.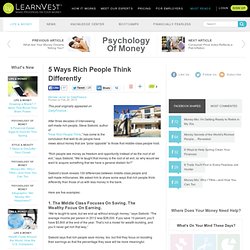 After three decades of interviewing self-made rich people, Steve Siebold, author of "How Rich People Think," has come to the conclusion that well-to-do people have views about money that are "polar opposite" to those that middle-class people hold. "Rich people see money as freedom and opportunity instead of as the root of all evil," says Siebold. "We're taught that money is the root of all evil, so why would we want to acquire something that we have a general disdain for?" Siebold's book reveals 100 differences between middle-class people and self-made millionaires. 7 Ways Money Memories Can Affect Your Finances LearnVest. Growing up, my grandmother was a master seamstress, and I always had beautiful clothes without ever having to pay for them.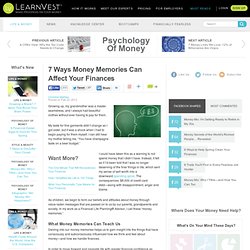 My taste for fine garments didn't change as I got older, but it was a shock when I had to begin paying for them myself. I can still hear my mother telling me, "You have champagne taste on a beer budget." I could have taken this as a warning to not spend money that I didn't have. Instead, it felt as if I'd been told that I was no longer deserving of the finer things in life, which sent my sense of self-worth into a downward spending spiral. 5 Things to Do Every Decade for Financial Success LearnVest. 1.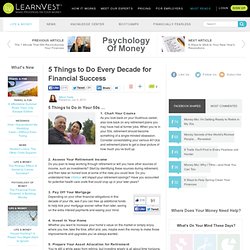 Chart Your Course As you look back on your illustrious career, also look back on any retirement plans you may have had at former jobs. When you're in your 50s, retirement should become something of a single-minded obsession. Consider consolidating your various 401(k)s and retirement plans to get a clear picture of how much you've built up. 2. Savings products. Eligibility requirements Please ensure you can answer YES to the following questions.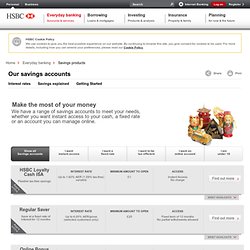 Are you 18 years or over? Will you be paying at least £500 per month into this account? World business, finance, and political news from the Financial Times. The 7 Most Expensive Investing "Truisms" You Must Ignore - The Huffington Post. Investing isn't complicated.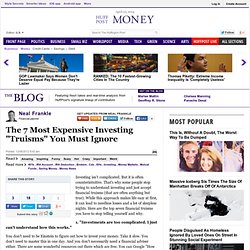 But it is often counterintuitive. That's why some people stop trying to understand investing and just accept financial truisms (that are often anything but true). While this approach makes life easy at first, it can lead to needless losses and a lot of sleepless nights. Economic Calendar. Davos 2012: Setting the gloom level to 11. 26 January 2012Last updated at 00:11 By Tim Weber Business editor, BBC News website, Davos Bankers and economists are in a gloomy mood Is there any good news for the economy?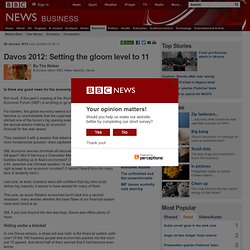 No Market For Defensive Stocks.
Finance Fitness. David Cay Johnston: The Dangers Of Low-Interest Rates. (The author is a Reuters columnist.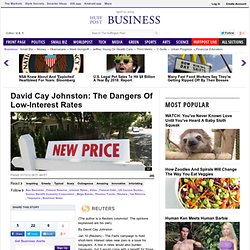 The opinions expressed are his own) By David Cay Johnston Jan 10 (Reuters) - The Fed's campaign to hold short-term interest rates near zero is a loser for taxpayers. A rise in rates would also burden taxpayers, but it would come with a benefit for those who save. Investorio | Investment Encyclopedia. Home Page - StumbleUpon. Five Personal Finance Lessons That Rocked Me Like A Hurricane When I Figured Them Out. The last two years have taught me many, many things about personal finances.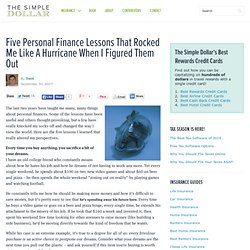 Some of the lessons have been useful and others thought-provoking, but a few have really knocked my socks off and changed the way I view the world. Here are the five lessons I learned that really altered my perspectives. Every time you buy anything, you sacrifice a bit of your dreams. I have an old college friend who constantly moans about how he hates his job and how he dreams of not having to work any more. Yet every single weekend, he spends about $100 on two new video games and about $60 on beer and pizza – he then spends the whole weekend "zoning out on reality" by playing games and watching football. Theodore R. Daniels: Looking Ahead: Have It When You Need It. Many of us look forward to retirement.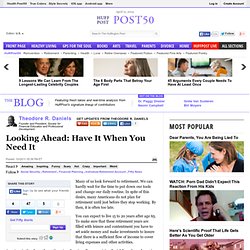 We can hardly wait for the time to put down our tools and change our daily routine. In spite of this desire, many Americans do not plan for retirement until just before they stop working. 233 Ways to Make Money. Many of our customers are entrepreneurs.
In this post, I thought I'd try to light the entrepreneurial fire under some of our other readers by publishing the world's longest list of ways to make money. I aimed to include as many ways to make money that don't require special training as possible (and I'll add to the list over time so bookmark it now). Without further ado, the list… Update (April 20, 2011): We've grown considerably over the last few months and, accordingly, it's time to scale our transcription team.
---