Video/animación
Talk | Tag | Writing. Happily Jumping on Clouds. "Homeless" is an animated film that was projected on city streets and buildings of Sao Paulo.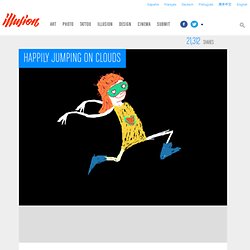 It was made for MTV Brazil by Vjsuave (Ygor Marotta and Ceci Soloaga). It is brilliant! Credits: Director: Vjsuave Producer: Juliana Borges Art Direction: Vjsuave Character design: Dante Zaballa and Vjsuave Character animation: Dante Zaballa Animation: Vjsuave Music: Juan Tortarolo Editing: Guillermo Coube and Vjsuave Cameraman: Rafael Garcia Camera assistant: Joao Maia Camera car operator: Neto Valesi Selected locations by Rafael Garcia and Vjsuave Top: "Homeless" (2011). Oil'd. Markus Kayser Builds a Solar-Powered 3D Printer that Prints Glass from Sand and a Sun-Powered Cutter. Industrial designer and tinkerer Markus Kayser spent the better part of a year building and experimenting with two fantastic devices that harness the sun's power in some of the world's harshest climates.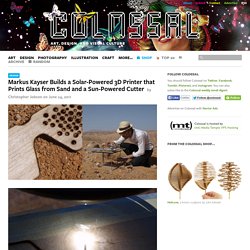 The first he calls a Sun Cutter, a low-tech light cutter that uses a large ball lens to focus the sun's rays onto a surface that's moved by a cam-guided system. As the surface moves under the magnified light it cuts 2D components like a laser. Packing like a Pro. Animation on a Bike. Persuade, Change, Influence - What can you learn on youtube? - Tomash.soup. SUPAKITCH & KORALIE Art. BALLET 360 (The 360 Project) KRUMP 360 (The 360 Project) The 360 Project - Behind the Scenes. Shyscapes (feat. Nils Frahm – Tristana) Zdf.kultur. Glowing Flower DIY - Video - StumbleUpon. 10 Websites To Make You Think | The Online Learning Blog from Study2U. Supposedly browsing the internet requires more brain power than watching television.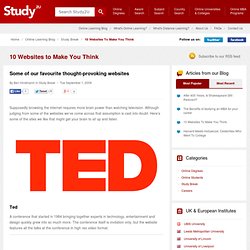 Although judging from some of the websites we've come across that assumption is cast into doubt. Here's some of the sites we like that might get your brain to sit up and listen. Make A Cheap & Easy Solar USB Charger With An Altoids Tin. Photos by Joshua Zimmerman The craftster behind the very popular $3 solar-powered emergency radio is back with a new awesome project: a cheap solar battery charger with a USB plug.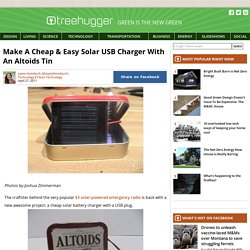 Zimmerman wrote, saying that he saw a lot of small solar powered chargers being talked about over Earth Day, but there was a big problem: "They're all quite nice, but also quite expensive.
Fun. Animación. Shorts. Music stuff. Nature. Video. Video. Design Matters: Doing Better with Less. Graphic design can change your life.
---