Music stuff
The Shrine / An Argument on Vimeo
FUTURE PROOF on Vimeo
Edward Sharpe at the Old Vic Tunnels on Vimeo
David Lynch 'Good Day Today' (Official Video)
Video
In the garden of my house there's a tree with lots of randomly grown twigs.
Music from a Tree on the Behance Network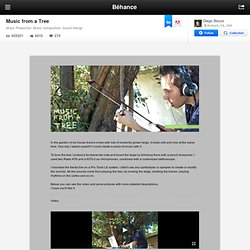 Dubstep: Mysterious headphones bring the party - The Feed
(CBS) - Behold the power of dubstep. It's the Friday before a holiday weekend, and most folks are preparing to have a good time. Here at The Feed, we're going to get the party started with this video that shows all you need for a dance party are some magical headphones and bass-pounding music. WARNING: This video contains body-moving, party-grooving electro music. Do not adjust your volume.