Music stuff
Edward Sharpe at the Old Vic Tunnels on Vimeo
David Lynch 'Good Day Today' (Official Video)
Video
In the garden of my house there's a tree with lots of randomly grown twigs. It looks odd and nice at the same time. One day I asked myself if I could create a piece of music with it. To tune the tree I picked a fundamental note and tuned the twigs by trimming them with a pencil sharpener. I used two Røde NT6 and a NTG-2 as microphones, combined with a customized stethoscope.
Music from a Tree on the Behance Network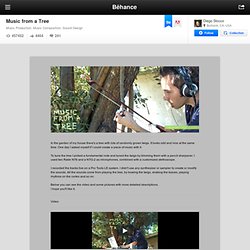 Dubstep: Mysterious headphones bring the party - The Feed
(CBS) - Behold the power of dubstep. It's the Friday before a holiday weekend, and most folks are preparing to have a good time. Here at The Feed, we're going to get the party started with this video that shows all you need for a dance party are some magical headphones and bass-pounding music. WARNING: This video contains body-moving, party-grooving electro music.