Music stuff
Couch Seats | Watch Amazing Live Music Videos. The Shrine / An Argument. Qué difícil es hablar el español. FUTURE PROOF. Edward Sharpe at the Old Vic Tunnels. People are strange. 1-man livelooped beatbox and guitar cover of The Pixies' "Where Is My Mind" Amateur - Lasse Gjertsen. What The Cello And Bass Were Built For: Von Thord – Wedding Night [VIDEO] Symphony of Science. David Lynch 'Good Day Today' Video. Music from a Tree on the Behance Network.
In the garden of my house there's a tree with lots of randomly grown twigs.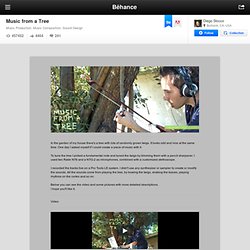 It looks odd and nice at the same time. One day I asked myself if I could create a piece of music with it. To tune the tree I picked a fundamental note and tuned the twigs by trimming them with a pencil sharpener. I used two Røde NT6 and a NTG-2 as microphones, combined with a customized stethoscope.
---