Animación
Imagine a Future Without Robots - Video
V WATER [viral animation] on the Behance Network
Kevin Parry - The Artic Circle (stop motion animation)
History of the world
Directed by Ha Juan, Keep Drawing is the latest rotoscopic animation to come out of Seoul-based Studio Shelter .
Keep Drawing
You won't believe it, but this video is entirely CG
Movie shorts, or short animations are a unique form of art, which can inspire and enlighten just like any other art form. Sometimes even more so. Here is a selection of inspiring, or for some reason animated short movies, here shown in their original full length. Thanks to all the visitors who have contributed with their detailed suggestions! That is why there are now two pages of great animated shorts! If you think there is a short animated movie that should be added, let us know which, and why.
We all love short animated films , but creating short film is very hard task. Putting whole story in 5 to 10 minutes is not easy. Can you imagine? Few films produced after working hard more than 6 years!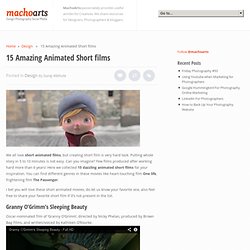 The Cutest Animated Short Film Ever. Guaranteed to put a smile on your face =)
Western Spaghetti in Stop Motion